Manufacturing and Process Management
Crowdsourcing Innovation: Floris Hoff, 3D By Flow
Crowdfunding sites are offering a new path for inventors with original ideas. We talk to inventors looking to gain the public's favour...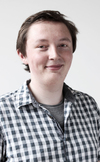 Name: Floris Hoff
Job title: Founder & designer
Organisation: 3D By Flow
Location: Maastricht, The Netherlands.
Product: Focus: The First Multi-material Portable 3D Printer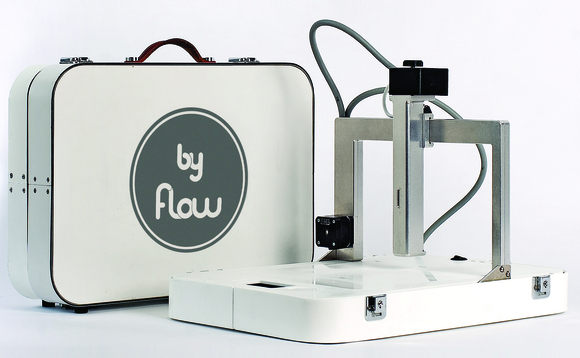 What it does & how it works:
This 3D printer prints creative things with edible materials as well as PLA, ABS, wood, bio-rubber, nylon, bronze, ceramics and silicon; The Focus by 3D By Flow translates your creative ideas into products made of all kinds of materials!
The 3D By Flow Focus is a compact, foldable, lightweight and durable 3D printer that is easy to transport, space efficient and can also print in high quality. Even setting up the Focus is easy and done quickly; in about 10 minutes you are ready to print. Also equipped with an extra end-stop for accurate height adjustments. A unique software has been specially developed with electronic extruder recognition capabilities. You can work with slic3r, Cura, Repetier Host with for example Doodle3D. With Doodl3d you can draw your own design. The Doodle3D WiFi-Box connects your 3D-printer wirelessly to your tablet, smartphone or laptop and provides you with a very simple sketching tool even your children (or parents!) can use. Doodle3D makes your 3D-printer as accessible as a sheet of paper without needing any knowledge of difficult 3D design programs.
What makes it stand out compared to other 3D printers?
First of all, quality was high on our list. We spent a lot of time in finding the best parts to be able to deliver the highest quality possible. With this printer the print quality is much better than most of the competition in the same category. We spent a lot of time making the most out of one machine, you can use it for much more than just filament printing and more printing techniques are being developed for the same machine. That's why we developed the easily exchangeable extruders: for filament, paste and in the near future also the granulate extruder. We try to be different than other 3D printers!
Secondly, the printer is foldable and portable: In a stylish, matte white briefcase, you get easy, safe and dust-free storage and transport. It is a quiet printer with external feed. Easy use, stand-alone (no PC required) with easily readable display and an SD-card reader.
Thirdly, the printer is equipped with a high quality, stationary, heated and isolated print-bed which means no failed prints anymore. The stationary print bed allows for more accuracy, especially with soft materials such as ceramics. The print bed is also heated (to 100°C) and isolated. Alongside that it doesn't need to be calibrated, something that needs to happen often with other printers, and always after transport.
What's your background, and what inspired you to come up with the idea?
I'm an industrial product designer with more than 4 years experience in 3D Printing, founding 3D By Flow in 2014. I first got acquainted with 3D printers via FabLab Maastricht, of which my father, Frits Hoff, is founder and director. In 2010, I dove into, out of curiosity, 3D printers because he noticed that the then-current models limited his printing capabilities. I wanted to develop and produce a multi-functional 3D printer with easily exchangeable extruders that can print a plethora of materials.
Why Kickstarter?
We have made 20 printers and field tested them with various interested parties for meaningful feedback, with which we made the last few changes before our Kickstarter. At the moment, we are past the developing phase and have a fully working 3D printer. We have even been able to assemble a few printers. Once the Kickstarter campaign is complete we can ramp up production, guaranteeing delivery worldwide, and will continue developing upgrades.
Tooling, production, and fulfillment are expensive. Funding all up front produces too high a risk for a small start-up company like ours. We are ready to start production of the 3D By Flow Focus printer, we just need the support on Kickstarter to ramp up production efforts so that we can deliver it to as early as possible. Furthermore, we have a lot of international media attention and received invitations to give successful demonstrations during the 3D Print shows in Paris, Rome, Madrid, Eindhoven, Berlin and London last and this year. In this way, Kickstarter is also a good platform to go abroad.
Is Crowdfunding good for innovation? How so?
On Kickstarter, there are a lot of innovative products and companies who want to show and share their ideas with the rest of the world. It is a great platform where talent meets each other and people get to know more about innovative products and have the possibility to be one of the first owners of these products.
Reactions on KS so far?
The reactions on Kickstarter are positive. Compared with the reactions, sellers and media attention in the last six month we expected more from Kickstarter. Now we only sell the printer through Kickstarter. Which means that everyone has the chance to buy the printer with an early bird price.
What have you learned from your campaign?
We have learned that we need more multimedia to show people that we really exist, are in production and the wide range of possibilities the printer offers! The printer, compared with other 3d printers, is more expensive. We did not cheap out on materials, functions and quality of the printer, hence the higher price tag.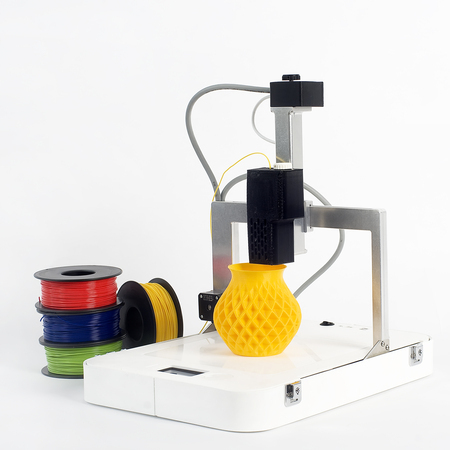 What are the benefits of having a portable 3D printer and how difficult is it to make it portable without sacrificing quality?
We started with the idea to make it more portable to solve some problems we had with other printers. The printer is just like a laptop because it is a lightweight and durable 3D printer that is easy to transport, space efficient and can also print in high quality. For this printer quality was high on our list. We spend a lot of time in finding the best suitable parts to be able to deliver the highest quality possible. The special aluminum frames are designed to perfection to save weight and still keep the highest strength possible. With this printer the print quality is much better than most of the other 3D printers in the same category.
There are many 3D printers on Kickstarter and Indiegogo – is the market over-saturated without enough standout players before it's really taken off?
We think that there are many printers looking for success on crowdfunding. They have a lot of good ideas, but most of them will still fail to deliver a quality product at the end of the crowdfunding. With Kickstarter we are trying to raise enough money to start our production, and also make sure that we deliver on time. The first deliveries will be in October this year. Compared to other Kickstarter campaigns, we will be able to deliver our printer much earlier.
The Focus is capable of printing different materials including plastics, edible materials and metals; which material do you think has the most potential to be useful on a wide scale?
At the moment a lot of companies spend a lot of time in developing new kinds of plastic filament to print with. We think that this is still an old way of doing it. We developed a granulate extruder. With this you will be able to print quicker and with a wider range of materials. For the business market it is very important to print high quality parts made from high quality materials. Our new granulate extruder makes it possible to do that. Furthermore, not only plastics, but also paste materials like ceramics, silicon and chocolate can be printed with one type of extruder. We think that a lot of potential lies in the new high end bio-plastics which are being developed. This will make sure you can have the best print possible and help the environment.
3D Printing has yet to take off in the public atmosphere – what do you think needs to happen to turn people on to the concept?
Most 3D printers are still used to print more toys than really functional models. We think that there needs to be more possibilities with one printer to try to make the most out of one machine. With our multi-material printer you can print much more than just plastic parts. You will be able to print with many different materials like ceramic, silicon and even edible materials like chocolate. In this way you can personalize your print or food with your own drawing.
Possible business use/advantage?
Businesses can also use this printer; If you look at our Kickstarter movie the printer is already in use and research is being done in:
- Schools: Children are learning to use 3D printers to make their own tools for example for biology and chemistry classes.
- Medical: Making prosthetics, printing food for people who cannot swallow well and researching new applications
- Restaurants: molds, innovative plating techniques
- Jewelers: making jewelry
- Supermarkets: personal nutrition, innovative, personalized customer relations
Aims for the future?
In the near future a granulate extruder will be added to the collection so that we can start to use a broad range of bio- and recycled plastics. Also, the granulate extruder will print ten times the speed of any other printer on the market, and at one tenth of the cost. This year, we will produce a 2nd printer, an "MKB" printer (50x50x50cm) with modifications to facilitate use in healthcare - making prosthetics - and a 3rd printer: a printer dedicated to printing chocolate for the world's largest chocolate maker. We will also continue to innovate, look for new materials and develop the Focus.