Human Resources
Typical 24: John Oberlin-Harris, Bark.com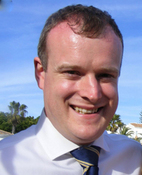 Name: John Oberlin-Harris
Job title: Marketing Director
Company: Bark.com
Location: London, UK
Years' experience: At Bark since June this year, 11 years' experience in total.
1. What time do you reach the office each day?
I'll typically arrive between 08:00 and 08:20, depending on whether the Circle Line is playing ball, or more recently, provided there's no strike!
2. Is your job varied?
It is extremely varied – my day can involve anything from digital product development through to data analysis, as well as overseeing our advertising campaigns and managing our PR agency. I even get involved in customer services from time to time.
3. Is your job creative?
I actually believe there's a methodical process behind creatively developing a product. It may sound a little counterintuitive, but I think that while branding is important, it's simply not as powerful as good old-fashioned word of mouth or social media. At the end of the day, if your product isn't easy to use or doesn't meet expectations, not even the best branding in the world can make a person recommend something that's flawed.
4. What do you spend the majority of your time doing?
Feedback is very important to me and the company so I spend a good chunk of my day listening to customer feedback and making sure Bark.com liaises with them accordingly to help improve the experience for everyone. I analyse both internal and external data to ensure we remain one step ahead of the game when bringing in new features to develop the product. I also manage our external agencies and make sure that they operate as an extension of the Bark brand as much as possible.
5. Do you personalise your desk?
Not really – I have my music playing in the background when I'm coding, but otherwise the rest is fairly Spartan so I can focus my attention on the site.
6. Would you describe yourself as creative?
Certainly in my approach to problem solving! I'm always looking for a better or more efficient way to do things and this requires some thinking outside the box.
7. Do you have any quirky daily rituals?
I always start my day with a sausage sandwich from Starbucks, unless I'm feeling poorly in which case it's cheese and marmite.
8. Do you tend to work on your own or with colleagues?
I do a good mix of the two, depending on the task. When I'm analysing data, I'm generally on my own as it's difficult to extract the insights without giving it my full and undivided attention. On the other hand, with customer service, I work alongside my colleagues who are specialists in the area and when it comes to PR, I work closely with our external agency.
9. How many hours on average do you work a day?
I work nine hours in the office, with a bit of social media review during the commute on either side.
10. Roughly how much time do you spend each day on email? Taking calls? In meetings?
I like to focus on the things that add value - email is kept to a minimum as we're a small team, so we tend to catch up in more efficient ways such as live chat. The same goes for taking calls and attending meetings, unless they're needed to advance something.
11. Do you use social media much for work?
For marketing purposes and for handling customer care enquiries, yes, but otherwise not really. I try to keep my personal social media separate from my work, though I have been gaining a few followers since starting at Bark.
12. What do you enjoy most about your work?
A big thing for me is the variety that comes with my job. No two days are the same and that's how I thrive as a professional. I enjoy the fast-paced environment that comes with helping to run an online business and the challenges that this represents on a daily basis. I also immensely enjoy how reactive you can be using digital channels, reviewing the regular feedback we receive off our customers and adjusting offerings to suit their needs. It's very satisfying to see how quickly and easily you can respond.
13. What type of music (if any) do you listen to at work?
It is dependent on my mood and the task I am doing but I generally go for the '90s or dance music.
14. What do you do for lunch?
I have to say a Sainsbury's Meal Deal is hard to beat, but I do enjoy Pret's tomato soup when they have it in.
15. Do you socialise with work colleagues?
I try to catch up with colleagues outside of work regularly and have lunch with the others in the office whenever I can. I also like to pop in to see the sales and customer service teams as they are the ones that interact the most with our customers. I think it's important to establish bonds with people who you work with as it makes you stronger as a team and, at the end of the day, you do tend to see more of your work colleagues than your outside friends!
16. Are there any tasks (through your career) you've been especially glad to get rid of?
I'm known as a bit of an Excel whizz around the office, but in a previous life, I used to manually check spreadsheets for inaccuracies, which was incredibly dull. So, by week two on the job, I'd learnt to automate the process, giving myself more time to focus on other projects and tasks – work smarter, not harder. For the most part throughout my career though, I've enjoyed what I've worked on and it's that passion that has helped drive me.
17. What is your last task of your day?
It could be anything but I always make sure I text my wife to say I'm on my way home.
18. How do you like to relax after work?
I have a 1 year old son so there isn't a great deal of time to relax at the moment! If I get the chance, Game of Thrones is a favourite of mine on TV and I was also a huge Top Gear fan – RIP Jeremy.
19. Do you keep checking email through the evening?
Only sporadically - otherwise my wife would kill me and my son would probably start eating my phone anyway.
20. Do you take work projects home with you?
Generally no, I think it's important to having some proper downtime from all things work-related so you can spend quality time with those nearest and dearest to you. The commute does give you time to think of or through ideas, however, so I make sure that I get right on with them the next day.
21. What would you say to your 20-year old self?
I would encourage myself to get as broad a range of experience as possible and to take advantage of every opportunity presented. I would also reassure myself that it's ok to trust my gut more when making the bigger decisions.
22. If you could try out any job for a day, what would you choose?
Probably an astronaut - I've always found space fascinating and floating around in zero gravity would be really cool. I suspect the sanitation and food wouldn't be as fun beyond a day though…
23. What device did you use to answer these questions?
My trusty Macbook, I barely go anywhere without it.
24. Do you use your own personal device for work?
Yes - both my iPad and iPhone.