Enterprise Systems Management
Typical 24: V Srinivasa Rao, Global Head - Digital Enterprise Solutions, Tech Mahindra
IDG Connect is looking to speak to IT, business and marketing professionals across the spectrum to discover more about their very different, typical working days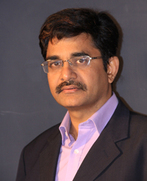 Name: V Srinivasa Rao (VSR)
Job title: Global Head – Digital Enterprise Solutions
Company: Tech Mahindra
Location: India, Hyderabad
Years' experience: 18.8 years
What time do you reach the office each day?
My day starts around 6 AM (IST) with checking mails, tweets and reading regional Telugu newspaper, Eenadu, on my tablet. I reach office around 9 AM IST. During my travel from home to office, I enjoy thought-provoking discussions and chats with my friends or colleagues on varied topics like technology, society, politics, etc.
Is your job varied?
Yes, my job is varied. Currently I am working on preparing my organization for the future. We have embarked on a journey to transform our organization to offer Digital Enterprise Solutions to global customers. This requires major cultural shifts, new skills, new roles, new behaviours, new solutions, new governance, new processes, new policies and modernized IT. Re-inventing and re-designing organization always position me to face varied challenges and situations in a day.
Is your job creative?
My job is hyper creative. I enjoy conceptualising something from ground and make it stable to transition to smooth operations. Currently, we are preparing our organization to outperform in this hyper connected world. I need to be creative in designing differentiation, value proposition, business model, operating model, preparing employees for a new & exciting journey, and in specific, building smarter business processes for an IT services business.
What do you spend the majority of your time doing?
I spend my time mostly in customer meetings, team meetings, reviews, decision making, thought leadership brainstorming sessions, solution engineering, mentoring young leaders, connecting with sales team to sell Digital Enterprise solutions. I also spend my time in analyst & advisory relationships, alliance & partner relationships, branding & marketing and teaching & coaching.
Do you personalise your desk?
Yes, to some extent. I have few of my certifications, awards, gifts on display in my office. Recently, I have given a challenge to my team to work with me on how we can transform my office in such a way that the visitors get superior experience.
Would you describe yourself as creative?
Yes, I am known for challenging status quo. I believe that creativity emerges by acquiring new knowledge. I learn from my reading, my discussions with customers, partners and advisors. I share my ideas with close colleagues and ask them to challenge the same. I get hyper motivated when I get a chance to create something new.
Do you have any quirky daily rituals?
No
Do you tend to work on your own or with colleagues?
It depends on the type of work. For routine operations and day-to-day work, I always work with my colleagues and team members to make sure that the situation is under control. Most of the time, I think on my own and then invite my colleagues for a discussion or debate. For any meetings with customers or any key note speech at industry forums, I may take a few inputs/suggestions from my colleagues but I prefer to work on my own.
How many hours on average do you work a day?
11–12 hours per day
Roughly how much time do you spend each day on email? Taking calls? In meetings?
I spend 60% of my time on mails, calls and scheduled meetings.
Do you use social media much for work?
I use social media for specific purposes. For any customer visits or meetings, I go through the linkedin profiles of the leaders whom I am going to meet. I follow few twitter accounts which are relevant to my profession. I view slideshare and YouTube videos for any clarifications or learning. I consider social media as my friend and guide which helps me performing my job better.
What do you enjoy most about your work?
Anything new which challenges the status quo. Mentoring and coaching young leaders, creating something brand new and make it successful. I enjoy managing crisis as a special commander. I enjoy the work which helps me to learn continuously
What type of music (if any) do you listen to at work?
Not much at work. However, sometimes when I am annoyed or disappointed, then I listen to Telugu melody songs which helps me to get relieved from stress/anger. Telugu is one of the prominent languages in India.
What do you do for lunch?
I usually bring my lunch box from home and take it at 12:30 PM (IST). I spend 30 mins to complete my lunch. Usually I maintain this time every day unless there is any conflict with other meetings/calls or travel. Quarterly I go out for lunch with my team.
Do you socialise with work colleagues?
Yes, sometimes with office colleagues. However, most of the time I spend outside during the weekends and socialize with volunteer community. I drive few leadership and entrepreneurship development initiatives and I socialize with the volunteers on regular basis.
Are there any tasks (through your career) you've been especially glad to get rid of?
Yes, in specific, the tasks like 'following-up' and 'sending reminders' to colleagues, management or team to get the work done.
What is your last task of your day?
Before I close the day, I check mails which are new and respond to them. I make sure that, I received all information related to important meetings and calls scheduled for the next day.
How do you like to relax after work?
I don't plan specially for relaxation. After dinner I see news channels and spend time with my kids. Again I get onto my laptop or tablet and browse something interesting which gives me more energy and knowledge.
Do you keep checking email through the evening?
Yes, I have a habit of checking mails continuously either using laptop, mobile phone or tablet.
Do you take work projects home with you?
Yes, I usually do not draw a line between office and home. I take work to home and spend some quality time on work projects. I have been doing this for many years. At this juncture, I am not that sure about, how I am going to shape my personal time in the future.
What would you say to your 20-year old self?
Think Big, Experiment, Fail Fast and Scale-up soon. Take risks and learn to lead the uncertainties at the early age.
If you could try out any job for a day, what would you choose?
Writing a script or acting in any one of the lead roles of a short film.
What device did you use to answer these questions?
Laptop
Do you use your own personal device for work?
Yes. I use my mobile phone and tablet for work within the policy framework of my organization.