Human Resources
C-Suite Career Advice: Askar Sheibani, Comtek
We ask industry leading C-suite professionals for their expert career advice...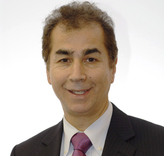 Name: Askar Sheibani
Company: Comtek
Job Title: CEO
Location: Flintshire, UK
What was the most valuable piece of career advice that you received?
My brother once said to me that you should never underestimate the capacity of the human brain; if you aim as high as possible, you will achieve.
What advice would you give to someone starting their career in the tech industry?
Firstly, the technology industry is a great place to start. Our economy is being driven by changes in technology, making it a really exciting place to be starting a career. My key piece of advice is to remember that the whole industry is founded on innovation and creativity, so take this approach; whether you're repairing networks or leading marketing strategy.
What tips would you give to someone aiming for a c-level position?
Think big and think clever. To reach a c-level position you need to be making decisions as if you owned the company, as if it were your money and reputation on the line. This isn't to say you can't be brave, but it does mean that you should consider every decision carefully. With an entrepreneurial attitude you will be determined to make the business a success and, as a consequence, you too will reach the top when it comes to your career.
Are you particularly proud of any career advice that you've given or the career route/development of anyone you've mentored?
My proudest moments as a mentor are when I've inspired confidence in individuals who had little hope for their own careers. By pointing people in the right direction, they often begin to understand where their business potential lies and, from there, can create their own success. In particular, it makes me enormously happy to show potential entrepreneurs a road map and see them turn this into reality.