Human Resources
Typical 24: Scott Tyson, Mailprotector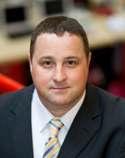 Name: Scott Tyson
Job title: Director of Global Sales
Company: Mailprotector
Location: Milton Keynes, UK
Years' experience: 12 years
1. What time do you reach the office each day?
It varies as I work mainly from home but I'm normally at my desk checking emails around 8.00am. If I am working from our office in Milton Keynes I normally do my day planning and overnight emails first and head in around 9.00am.
2. Is your job varied?
Extremely varied and its one of the things I love about working for Mailprotector. As Director of Global Sales, I plan, execute, manage and am involved in the day to day sales in our three main territories being Europe, APAC and the North America. Also being part of the leadership team, I also get the opportunity to be part of our marketing, operations, development and management side of the business.
3. Is your job creative?
It can be yes! Re-designing and implementing our revised Partner Program allowed the creative side to come out.
4. What do you spend the majority of your time doing?
Developing and implementing our global roll-out along with the general overview of our partner sales. I have made it my mission to be more partner facing in 2016 however, as this is by far my preferred area of the business and where my value to the business lies.
5. Do you personalise your desk?
Yes, in regards to how I want it laid out with a few sales technique pictures for reference. I have two photos of my son and daughter, which of course personalise it.
6. Would you describe yourself as creative?
I can be in regards to business dealings and process (not in a sneaky way) but not in an artistic way. I don't think you will see an art exhibition coming soon featuring Scott Tyson, or any of my prints being valued at the Antiques Roadshow in years to come.
7. Do you have any quirky daily rituals?
My main ritual every morning is to draft an agenda for that day or refresh or extend the one from the day before. I like to have a list of what I need to do each day and highlight the three most important tasks and get them done first if possible. Knowing how quickly my day can get diverted or disrupted, it is crucial I get those three important items done!
8. Do you tend to work on your own or with colleagues?
This is a great question for me, as I mainly work with my colleagues in the USA so starting early gives me a good 3-4 hours working time before they come online. I have the best of both worlds in that I get my alone time in the mornings and work with my US colleagues in the afternoon and evening.
9. How many hours on average do you work a day?
If the boss is reading this, 21 hours! Realistically, normally between 10 and 12 hours due to me looking after the three main markets. Enjoying the job and having freedom of hours makes the 10-12 hours seem far less. Makes it so much easier when you genuinely love what you do.
10. Roughly how much time do you spend each day on email? Taking calls? In meetings?
Obviously it varies, but I would say I'm on calls 30% of the day, in meetings (albeit online via VC or webinar) about 25% and handling emails about 30%, with the rest made up with planning, meeting actions etc.
11. Do you use social media much for work?
We haven't used it much at all apart from status update alerts etc. Since I have been doing the global role, I am doing more PR via our Twitter account and getting more and more active on my LinkedIn page where I publish our events, press items and releases as well as any PR activities. We are looking to vastly increase using this medium in 2016.
12. What do you enjoy most about your work?
Honestly, I enjoy about 99% of my work. There are always things that pop up that are not your favourite tasks to do but I genuinely enjoy everything about Mailprotector. We have a fantastic product in a market that is growing and with that, we are in a prime position to continue to capitalise on. I am working with the best leadership team in our industry in my opinion, with a diverse background of experience from Entrepreneurial, Operations, Sales and Coding and Development skills. We are based in Greenville, South Carolina, which I simply adore and love to visit and our company continues to grow its markets here in Europe, in my home country of Australia and every day brings up new and exciting challenges and success.
13. What type of music (if any) do you listen to at work?
I have a very conservative taste in music with a love for 70-90's Australian rock along with old faithfuls like Billy Joel, Eric Clapton, Phil Collins, AC/DC, Midnight Oil, Cold Chisel etc. Currently, my most frequently used playlist has Ed Sheeran, The Script, Cold Chisel, John Farnham, The Calling and Hunters & Collectors.
14. What do you do for lunch?
I try to shut off my mobile and email for at least half an hour and read a magazine, book or watch sport on TV whilst having a sandwich. Every now and then I will try and get some lunch out at our local pub with my wife.
15. Do you socialise with work colleagues?
When we are all together absolutely. We are a close group so socialising is always on the agenda.
16. Are there any tasks (through your career) you've been especially glad to get rid of?
Spending a day a week compiling reports that any manager can obtain by simple CRM report or investigation. Activity for activity's sake. Running around just doing things as opposed to having process, time, agenda, actions and results. Some managers I worked for earlier in my career were more concerned on activity than basic process and results. Something I hope I can do the opposite of during my management career.
17. What is your last task of your day?
Most importantly kissing my children good night but with work, ensuring important actions have been completed or updated as far as I could for the day. Secondly, at least transfer any outstanding tasks from today to my to-do list for tomorrow so nothing is forgotten.
18. How do you like to relax after work?
Depends on the day of the week, but most often it is a kick of the football or hit of a cricket ball with my son, playing or training with my Vets Football side, playing games with my daughter or just relaxing on the couch. As long as the family is around, I'm happy.
19. Do you keep checking email through the evening?
Yes I do as I look after global sales so it is part of my job. Most can be actioned by my US colleagues if need be or I can update the Australian ones but with smartphones, I can do this whilst watching TV in the evening with little interruption. My worst habit is checking during dinner and that is just rude. I seriously need to stop doing that!
20. Do you take work projects home with you?
They all go hand in hand as I mainly work from home but I do try to leave these additional tasks for when the kids are in bed or out so it doesn't detract from our family time.
21. What would you say to your 20-year old self?
This is a question I have thought of a lot. At 20 years old, I was still a Tool Maker Engineer and really enjoyed the job but the early hours and factory work just never did it for me. Perhaps I would have said go to England sooner and play cricket and travel at a younger age and just enjoy that period of my life more. Most importantly, the advice I would have said was just enjoy your family, friends, grandparents and learn as much as you can from them all as they aren't around forever! Live, learn and love now and enjoy every moment.
22. If you could try out any job for a day, what would you choose?
All the standard ones I guess, from CEO of Red Bull Racing, F1 driver for Ferrari, Australian test cricketer etc., but I would love to be the Head of the Australian or Imperial War Museums. Bringing the stories and history of all our countries involvement and sacrifice from the wars (all wars) to our next generation is something I am very passionate about so that would be of interest. Head of Apple or Google would also be a huge buzz.
23. What device did you use to answer these questions?
My Apple MacBook Air. It's the best laptop I have ever owned and I cannot see me using anything else ever again.
24. Do you use your own personal device for work?
I actually use my own iPhone and have just purchased a new iPad Mini during my recent US visit and am starting to do all my notes from meetings using Evernote.