Desktop Management
Crowdsourcing Innovation: Daniel Guermeur, Das Keyboard
Crowdfunding sites are offering a new path for inventors with original ideas. We talk to inventors looking to gain the public's favour...
Name: Daniel Guermeur
Job title: CEO
Organisation: Das Keyboard
Location: Austin, Texas
Product: Das Keyboard 5Q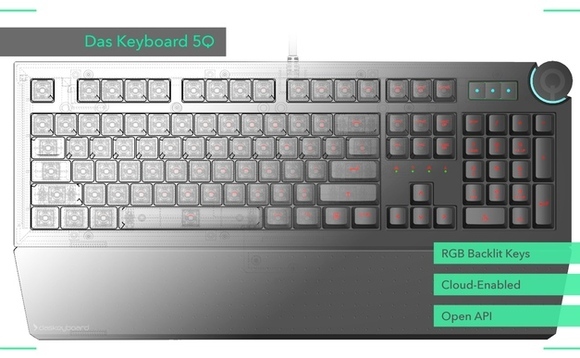 What it does and how it works:
The Das Keyboard 5Q is a cloud-enabled, open API, RGB mechanical keyboard that enables users to stream information from the Internet to their keyboard by color coding keys to represent specific information. Essentially we have transformed a traditional input-only device into an output device that functions as a dashboard keyboard to help boost productivity. Furthermore, we were able to add an output function to the Das Keyboard 5Q in the most minimalistic way.
What makes it special:
The Das Keyboard 5Q redefines the way we use keyboards. First and foremost, a keyboard should be made for an awesome typing experience. The Das Keyboard 5Q is no exception. Because it is a cloud-enabled output device, the Das Keyboard 5Q is different than any other keyboard ever made. The keyboard enables users to customize the color and animation pattern of every key based on the specific information they want to keep tabs on throughout the day. Basically, we have turned the keyboard into an output device. Once someone test drives the Das Keyboard 5Q, we think they will never want an input-only keyboard again.
What's your background, and what inspired you to come up with the idea?
I've always liked the idea of color-coded light bulbs to represent various pieces of streamed information, like an upcoming weather storm or a stock quote. One day I realized that having a keyboard with LEDs under each key is like having 104 light bulbs literally at your fingertips. You can color code so many pieces of information in a way that's meaningful and unique to you.
Why Kickstarter?
I think Kickstarter is a great model to validate and develop new ideas and get early feedback.
Benefits for users include: First access to the product; being able to purchase the product at a huge discount; and they can influence the product by contributing ideas to the product maker.
Benefits of Kickstarter for Das Keyboard include: We're able to validate the product concept early on by having feedback from early adopters; we attain funds to invest in expensive tooling equipment; and we're able to more effectively engage with the user community.
Were you surprised with the success of your campaign?
We got funded in 7 hours, doubled the funding the second day, and at just more than two weeks into the campaign we had exceeded our goal by nearly 300%. We were confident the product was solid and the concept was sound, but did not expect such positive and quick response.
What have you learned from your campaign?
What we've learned is that directly engaging the user community is the best approach for a company. The Kickstarter website allows us to engage with our users very easily. We also have learned that the community is very knowledgeable and users often want more features than initially offered.
When is the product due to ship?
Early series of the Das Keyboard 5Q will ship in December. Mass production is planned for January 2017, so we'll ship the same month.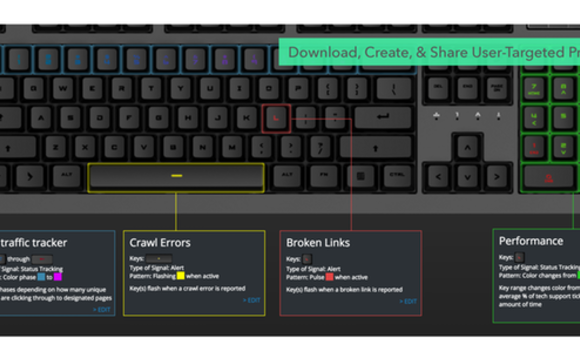 What sort of use cases do you see the 5Q being used for?
Some use-case scenarios for the Das Keyboard 5Q that we've used as examples include:
Project Management: As scrum master, project manager or a team member, you really want to keep an eye on the progress of your project. That's where the Das Keyboard 5Q comes in. You see the function keys that are orange? Only 10 are lit up it because there only 10 tasks left to be done before the project is completed.

Display Software Build Status: If you are a software developer using a continuous integration system such as Travis or Jenkins, you won't need to open your browser to know if there is a failing build. Simply configure one or more keys on your Das Keyboard 5Q to glow red if it's a #fail, or green if all is good.

CPU Monitor: Some of us are obsessed with our computer CPU activity. Is there a stray process burning cycles for nothing? Configure CPU activity to be displayed as a bar graph on the top row of your Das Keyboard 5Q.
Webmaster Dashboard: The Das Keyboard 5Q can keep an eye on the quality and speed of a website. As a summary, the Das Keyboard 5Q can stream information from any data source that is accessible from IFTTT, Zapier or has a public API.

Stream Stock Ticker in Real Time: If you are a hedge fund manager, you have a TV in your office overlooking Manhattan while streaming Wall Street results in real-time. For the rest of us, there's the Das Keyboard 5Q. Assign F1 for Google stock and F2 for Facebook and they'll glow red and green depending on where the market goes.

Manage high-priority emails from the boss: Life is so much easier when your boss is happy right? Das Keyboard 5Q can help. Configure the number row to turn red when there are more than 3 emails from your boss waiting in your inbox.
Who are you targeting with the 5Q?
Our typical user for the Das Keyboard 5Q is someone who is computer savvy and spends a lot of time in front of his or her computer. In other words, it's for geeks -- whether you're a marketing geek, a software geek or a project management geek.
Aside from the Cloud functionality, it sounds like you're putting a lot of effort into the quality of the typing experience. As laptops and tablets become more common and PC sales decline, do you think the quality of desktop peripherals will start to matter far more than the price as they become less of a required item?
People using a big display, a great mouse and a high-performance mechanical keyboard are more productive. Typing experience is king and users have always raved about typing on our keyboards. A typical user will change his or her laptop or desktop every 3 years. A solid keyboard and big monitor can be kept much longer, thus protecting someone's initial investment. As laptops become more powerful, we can now connect them to a higher-end keyboard and monitor and have the best of both worlds.
Possible business use/advantage?
Leading edge companies buy our keyboards to raise productivity and increase employee satisfaction. As a dashboard keyboard, The Das Keyboard 5Q's goal will help increase productivity even more.
What's next for the company and the product?
Right now we are working on making the Das Keyboard 5Q a reality. There is plenty of work to be done on both on the hardware and software side. We are very excited to be able to bring the most advanced keyboard to the world in early 2017.