Human Resources
C-suite career advice: Alex Bornyakov, VertaMedia
We ask industry leading C-suite professionals for their expert career advice...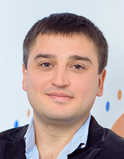 Name: Alex Bornyakov
Company: VertaMedia
Job Title: Founder
Location: New York City, USA
What was the most valuable piece of career advice that you received?
When you join a new company, the first thing you have to learn is "who to send an email to, and who to CC into it." People can spend years in the same company without fully understanding the organisation's style of working. However, it is crucial to know who does what, and how they can help you, because reaching the right people can boost your working progress significantly.
What was the worst piece of business advice that you received?
When a problem arises and people say, "Don't worry, it will work itself out." Throughout my career I've learnt that the worst thing you can do in business is to ignore a problem – it won't just go away. You need to take the initiative to act on issues as and when they arise otherwise you risk the problem becoming worse.
What advice would you give to someone starting their career in the tech industry?
Become an expert in your chosen field. Perhaps most crucial is to understand the basics of how the technology works – what it does, and what makes it special.
What tips would you give to someone aiming for a c-level position?
Get used to managing a huge level of responsibility. If it starts to become overwhelming, the best thing to do is break it down into bite-sized chunks. Think of the business as a machine and take care of each of its different parts separately.
Are you particularly proud of any career advice that you've given or the career route/development of anyone you've mentored?
I often have people express their gratitude to me for supporting and advising them. As I am mentoring several start-ups this happens a lot, however, there isn't anything specific I would say that I am proud of. The longer I am in the business the higher I aim and, consequently I grow up and reevaluate many of my approaches, skills, and experiences so the best advice is to look ahead.