Data Mining
Airbnb for dogs: A big data & machine learning approach to pet-sitting
An 'Airbnb of dog sitting and walking', Rover.com is available in the US and offers a more affordable and flexible option than traditional services like kennels. But matching local pet owners with appropriate sitters is a surprisingly complex big data challenge, which is where the developers and data scientists that create and test Rover.com's many proprietary algorithms come in.
Founded in 2011 by Greg Gottesman (Founder and Board Member) and Philip Kimmey (Co-Founder and Director of Software Development), "Rover.com is a dog lover's other best friend — second only, of course, to your dog," says the website. The idea for Rover.com grew out of a negative experience Gottesman had when his dog, Ruby Tuesday, was injured at a high-end boarding kennel in Seattle. When his nine-year-old daughter said she would have actually paid to take care of someone else's dog, Gottesman saw a business. He and his team, including Phillip Kimmey, pitched the idea for Rover.com at the 2011 Startup Weekend in Seattle and won top prize.
Scott Porad came on board as CTO in 2012 after recognising Rover.com as a "great solution" to "an obvious problem for pet owners", he tells me. Porad, part of a product development team of about 30 people, including engineers, product managers, data scientists and designers, explains how Rover.com's algorithm works:
"We want to provide our customers with the best sitter or dog walker possible, and to do that we put big data to work. Dog owners select their preferences, and we use every bit of data at our disposal to give the best option for care. Our machine learning algorithms analyse what users want in different situations and get smarter with every search. As we match more and more pets with sitters, we continue learning what leads to a great experience for our sitters, owners and the ultimate customer—their pets."
But there's no one-size-fits-all when it comes to dogs – as Porad says, "every dog and owner is different, and data helps us use those points of differentiation to our advantage, as opposed to building a barrier. That being said, more data points aren't always better—we do testing to see which data points result in better experiences and lead to repeat customers.
"One example of data at work is analysing dog breeds and their typical needs. My dog, Oscar, is an eight pound Miniature Schnauzer, and he will not be happy on a farm with other dogs. On the other hand, my co-worker's Labrador thrives with space to run. Rover.com is not just one marketplace. It's hyperlocal and highly customised."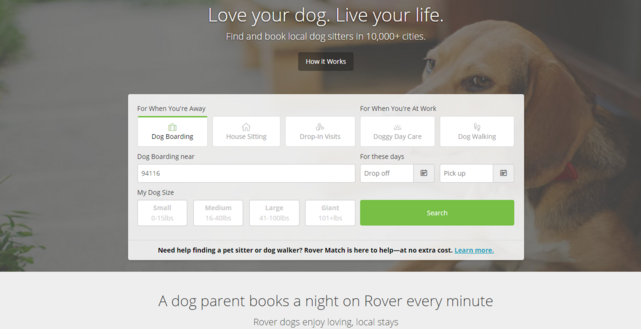 So far, Rover has connected pet parents to more than 40,000 sitters and dog walkers across the US, and the data from all these matches isn't only used to match dog with sitter; Rover.com also leverages data to ensure the safety and security of their users – both human and canine. "Safety is Rover's number one priority," Porad says.
"We manually review every sitter's and dog walker's profile, and only 15% are approved to list their services on Rover. All new sitters and dog walkers complete general background checks and a safety quiz, and we continue to provide education throughout their time as a sitter.
"Additionally, we leverage data from every stay and walk to facilitate smarter, safer matches and ensure sitters continue to meet our standards. On the rare occasion something does go wrong during a stay or walk, we have a 24/7 Trust & Safety support team, access to veterinarians and premium insurance."
The Rover app currently allows doggie parents to receive photo and video updates and text messages from the sitter, (with further features planned over the next few months) and this kind of data is used to improve Rover.com's service. "We drill down data in a variety of different ways and continue to get smarter about what creates the best connection between dog, owner and sitter. We look at data points ranging from a sitter's frequency of booking and communication with dog owners to past satisfaction ratings or any customer service feedback. We're constantly testing to see which data points result in better experiences and lead to repeat customers, so our algorithm is always changing," Porad explains.
Trends and insights from data are also used "to inform product launches and educational initiatives," I'm told. For example, user data showed that Rover.com's owners were booking sitters for walks and day care, rather than simply longer-term dog boarding, so the company started building an infrastructure that would allow owners to connect more easily with sitters offering those additional services.
"Data, to us, is more than a tool for matching customers and marketing," says Porad. "We use our data to ensure seamless experiences, but we also use our data to learn how to keep pets and sitters safe. Our algorithms, combined with human oversight, lead us to provide the safest experiences possible."
Rover.com has so far managed to raise $50 million in funding, but the biggest hurdle, Porad tells me, is raising awareness. "There is still a large segment of dog owners that use friends, family and neighbours for their pet setting, so many potential customers don't currently search for a commercial solution."
But they're not letting that stop them; "Our mission is to make it possible for everyone to have a dog in their life, and everything we do is aimed at achieving that goal."