Wireless Technologies
C-suite talk fav tech: George Brasher, HP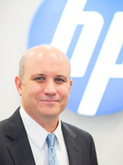 Name: George Brasher
Job title: Managing Director, UK & Ireland
Company: HP
Industry: IT
Location: London, UK
Years of experience: 26
What is your favourite personal gadget?
I know I'm biased, but it has to be my new HP Elite X3. It's a truly three in one device; phablet, pc and tablet. It has the power, performance and security that means you can properly work on the move, whilst looking great and lightweight to carry. It's making a massive difference to my productivity, especially when I'm travelling. I'm also very proud of it; it represents the new HP and how we're not just bringing out new products but re-inventing whole new categories.
Do you have a favourite piece of personal software?
It would have to be Netflix. I am a big movie and TV fan and Netflix has great content. I just binge watched 'Stranger Things'! I also follow BBC News and BBC Sports Apps.
What was the first piece of technology you got really excited about?
Shortly after I joined HP, we launched our first 300dpi colour printer and dramatically reduced the cost of colour printing. It was game changing and to come in and be part of that at the start of my career was so exciting. 26 years on and we're back with the same intensity of innovation and focus on re-invention, only now it's 3D printing. What we're bringing to the commercial 3D market will be another game changer and is being seen as the next industrial revolution.
What device improves your life most at work?
My HP X3 has dramatically improved how I work on the move. Work life and home life are merging and it's no longer about one or the other, we now use the same devices at home and at work and want to move seamlessly between the two. That's why we need and demand devices that have the security and flexibility to allow us to use them wherever and however we like.
What software keeps you most productive at work?
Microsoft Office - I use it all the time - Outlook at my desk and on the go, PowerPoint for meetings and presentations.
Is there any technology that has become extinct that you would like to resurrect?
A particularly vintage piece of technology that I look back on with pride was the HP atomic clock, which set a new standard back in 1964. I love the fact that we helped people to do something as fundamental as tell the time better. The technology has been used by scientific establishments and laboratories over decades to help bring about some of the major scientific breakthroughs of our time.
Is there any technology you would personally recommend that you don't think enough people know about? (Hardware or software, work or personal)
Immersive computing is truly mind blowing and is already in existence. It's the merging of the physical and digital worlds in a way that you wouldn't have thought possible only a few years ago and brings a whole new level of creativity to life. When we show people our Sprout by HP they can't believe what it can do. You can take an object, scan it, manipulate and create it again on a 3D printer. The merging of physical and digital worlds is already here, you have to check it out!
Do you think anything about your personal use of tech would surprise your colleagues?
I think they might be surprised to learn that I'm a novice gamer! My sons are big gamers and I'm often driving them around the UK to the next big gaming event. Gaming is massive for young (and older!) people today. I'm pretty excited about the latest Omen gaming computers that we've brought out at HP. Our HP Omen X Desktop is ready for virtual reality and anything else that modern gaming can throw at it. For gamers who love building their own machines, the computer is highly configurable, right from the empty chassis upwards. It's had great reviews and has proved that we're serious players in this market. You should have a go, you could be secret gamer too!