Software
C-suite talk fav tech: Tim Beerman, Ensono
CIOs, and increasingly CMOs and CEOs, may be responsible for the technology within their group but what about their personal preferences? We profile the global c-suite to learn more about their 'fav tech.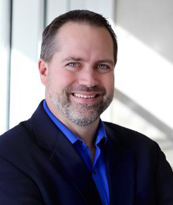 Name: Tim Beerman
Job title: Chief Technology Officer
Company: Ensono
Industry: IT
Location: Greater St. Louis Area, Missouri
Years' of experience: 19
What is your favourite personal gadget?
I couldn't live without my Samsung Galaxy S6. It may be slightly past its sell-by date with newer models on the market, but I still rely on it for work, news, music, leisure, communication and much more besides.
Do you have a favourite piece of personal software?
Trello is vital for me! I use it to organise my day at work and all the tasks I have at home. It's particularly useful as I'm often travelling, but also when I'm at home I use it to organise any DIY jobs around the house.
What was the first piece of technology you got really excited about?
The first piece of technology I remember getting excited about was an IBM clone computer I got when I was 12 years old. I wrote my first code on it, which helped print bills from my paper route. Who would have thought a simple automation process was the first step into a career in IT.
What device improves your life most at work?
That's the trusty smartphone again. With the power of some desktop PCs, I'm effectively always in the office and can catch-up on anything and with anyone whilst on the road.
What software keeps you most productive at work?
I'm a big fan of Slack. When working with large global teams, it's vital to have a collaboration tool that keeps people's email boxes from clogging up. Slack helps my team work better together and boosts productivity, which can only be great for Ensono's clients.
Is there any technology that has become extinct that you would like to resurrect?
No. Technology must always move on, and so what is here now, must always be better than what has been before.
Is there any technology you would personally recommend that you don't think enough people know about? (Hardware or software, work or personal)
Team collaboration tools, such as Slack, Yammer or Trello, have been popular for a number of years, but I still feel that businesses are not using these tools as effectively as they could. The productivity gains from effective use of tools such as Trello and increase a business' customer service levels enormously, if used correctly.
Do you think anything about your personal use of tech would surprise your colleagues?
Colleagues might be surprised that I'm a hybrid hardware user – largely by choice. I use a Mac at work, Windows at home and have an Android smartphone.