Human Resources
Typical 24: Greig Holbrook, Oban Digital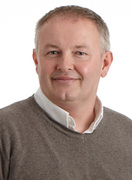 Name: Greig Holbrook
Job title: Managing Director
Company: Oban Digital
Location: Brighton, UK
Years' experience: 12 years
1. What time do you reach the office each day?
I'm always the first to arrive every morning at around 7.45am.
2. Is your job varied?
Yes my job is very varied, especially as the company is growing and changing I play more of an entrepreneurial, evangelising role rather than a standard managing director role.
3. Is your job creative?
I'm at my happiest when I'm doing something creative and I much prefer it to the organisational and management side of my role.
4. What do you spend the majority of your time doing?
I spend a good majority of my time talking to our US team and our senior management in the UK. I'm currently spending a lot of time shaping the rebrand with my team and reorganising our teams to ensure our offering is presented well to all our key markets.
5. Do you personalise your desk?
My desk is an absolute mess but I've heard that this is common for creative people! My family are actually appalled when they come in the office and take it upon themselves to tidy it up.
6. Would you describe yourself as creative?
Yes absolutely. I can't draw very well but I do have a creative mind; I have lots of ideas just waiting to come out and I am constantly trying to challenge the norm. I like to think of myself as an actor on the stage coming up with new ideas for the script as I go along.
7. Do you have any quirky rituals?
Yes I do but I'd rather not share them with readers of IDG Connect.
8. Do you tend to work on your own or with colleagues?
If I need to think then I need to be on my own and I find driving in my car gives me perfect 'thinking time.' However, I do also work well with people around me. I used to be a lecturer at Brighton University and enjoyed soliciting opinions from the students in my lectures.
9. How many hours on average do you work a day?
Generally I work around 10 hours a day. I'm a bad Monday person, but find I'm more creative in the middle of the week on Tuesdays and Wednesdays.
10. Roughly how much time do you spend each day on email? Taking calls? In meetings?
I'm guilty of spending too much time on emails but not as much time on the phone as I used to or indeed would like to.
11. Do you use social media much for work?
As a company we really embrace social media and are active across all platforms; although I don't tend to get involved too much, I leave that to the experts. LinkedIn is a great tool and one I use regularly.
12. What do you enjoy most about your work?
I love winning business and growing our business. I also enjoy the people side and get a real buzz from all the ideas that come from our teams all around the world, especially our diverse UK team who come from all parts of the world and are rich with ideas and creativity.
13. What type of music (if any) do you listen to at work?
I'm the one who puts the music on in the office as I love hearing music playing in the background. I'm a huge fan of Indie music and Radio 6. In the office we often take part in 'Stick it On' where we take it in turns to become a DJ for the afternoon and choose three songs and see how the office responds. Music is a big part of our office, especially on Friday afternoons and after work.
14. What do you do for lunch?
For years I didn't even have lunch but I now make a point of either going down to the local Italian restaurant in the Lanes or to the seafront in Brighton to clear my head. I'm very lucky to work only ten minutes from where I live and to have the opportunity to go down to the beach and choose from the huge variety of restaurants on our back door.
15. Do you socialise with colleagues?
Yes – we built a bar in our office to make sure that we all socialise. Our bar is called 'OMGs'. I can't remember where the name originated, it's either 'Oh my God' or named after myself and my brother Grant, who is our FD or the name of company, Oban. We also get together once a month as a team and do Karaoke.
16. Are there any tasks (through your career) you've been especially glad to get rid of?
I love getting rid of any jobs that involve working with spreadsheets. This is where Grant steps in and manages anything to do with numbers and I'm left to manage the creative side of the business!
17. What is the last task of the day?
Usually calling the teams in the US, who work in offices on the east and west coasts of the States. It's only the start of their day so I make sure they don't need any more support from me before I leave the office.
18. How do you like to relax after work?
I find swimming in the sea and cycling very relaxing and try to do them as often as I can. I'm also a huge Chelsea fan, but also love watching and supporting our Brighton football team.
19. Do you keep checking email through the evening?
Yes I do – I am terrible on my BlackBerry and keep checking it throughout the evening. It's also the first thing I look at in the morning – a very bad habit.
20. Do you take work projects home with you?
If I really need to then sometimes I will take work projects to finish at home but try to not make a habit of it. I've always made sure that I have a good work/life balance and ensure that holidays and weekends are time for me and my family.
21. What would you say to your 20-year old self?
Don't do anything differently; carry on enjoying your twenties partying and clubbing in the UK and around the world!
22. If you could try out any job for a day, what would you choose?
I would be a social worker or a philanthropist and would really relish the opportunity to do some voluntary work in the community.
23. What device did you use to answer these questions?
My PC.
24. Do you use your own personal device for work?
Yes, but it was a bad mistake though.