Enterprise Performance Management
Typical 24: Fred Laluyaux, CEO, Anaplan
IDG Connect is looking to speak to IT, business and marketing professionals across the spectrum to discover more about their very different, typical working days...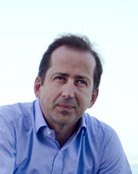 Name: Fred Laluyaux
Job title: CEO
Company: Anaplan
Location: San Francisco, CA, United States
Years' experience: 20
1. What time do you reach the office each day?
7:30am
2. Is your job varied?
Very much.
3. Is your job creative?
Absolutely.
4. What do you spend the majority of your time doing?
Greatly depends on the growth phase of the company. At Anaplan, it's helping the team scale while protecting our culture, working with our customers, building a beautiful product, and recruiting great talent.
5. Do you personalise your desk?
A little bit. Pictures of my kids on my desk and my desktop :)
6. Would you describe yourself as creative?
Yes. Creating is a fun part of my job.
7. Do you have any quirky daily rituals?
I cannot sit still.
8. Do you tend to work on your own or with colleagues?
With colleagues a lot during the day. I take time to think on my own at night or when I'm travelling.
9. How many hours on average do you work a day?
12-14 hours.
10. Roughly how much time do you spend each day on email? Taking calls? In meetings?
Email: Continuous; Taking Calls: 50%; Meetings: 50%
11. Do you use social media much for work?
Yes. Linkedin and Twitter.
12. What do you enjoy most about your work?
Building a vision and executing it with great people.
13. What type of music (if any) do you listen to at work?
Loud.
14. What do you do for lunch?
Café de la Presse in San Francisco. Almost always. Otherwise, quick lunch at my desk.
15. Do you socialise with work colleagues?
12-14 hours a day.
16. Are there any tasks (through your career) you've been especially glad to get rid of?
Sitting on stupid conference calls.
17. What is your last task of your day?
Looking at tomorrow's schedule.
18. How do you like to relax after work?
Family time. Music.
19. Do you keep checking email through the evening?
Yes. Too much.
20. Do you take work projects home with you?
Yes. Too many.
21. What would you say to your 20-year old self?
Go for it.
22. If you could try out any job for a day, what would you choose?
Sound engineer or architect.
23. What device did you use to answer these questions?
Laptop.
24. Do you use your own personal device for work?
My own sound cancelling headphone.