Healthcare
e-NABLE founder on giving kids 3D printed superhero hands
3D printing over the last few years has been a major talking point across the technology industry. Many are excited by its endless possibilities: advances in the medical field, customisable objects and more. But one organisation has found a way to make 3D printers worthwhile for kids all around the world in need of limbs and that organisation is e-NABLE.
e-NABLE is a global network of volunteers that use 3D printers in their own homes to make 3D prosthetic hands for kids and give them away – for free.
"It's set up in such a way that people give their personal details and they say: 'I have a printer and would like to volunteer'. Or they could say: 'I was born with missing fingers and I would like a hand'. We advise that they check with the prosthetist if there are any complications at all and then we match them with one of our volunteers," Jon Schull, founder of e-NABLE tells me over the phone from Chicago.
Schull explains that the whole process can take a few weeks but the end result means that a kid gets a 3D printed hand that makes him or her feel like a "superhero". The impact is huge as the very design of the prosthetic is not only inexpensive but also confidence-boosting for kids.
It's a win-win for both volunteers and the kids that need prosthetics. Schull says volunteers feel an immense satisfaction that they are doing something "life-changing by donating their time" from all over the world.
"I would like to say that it's answered one of the greatest questions of the 21st century where lots of people were buying 3D printers thinking they are really cool. We've answered the question: 'Honey, why did you buy that machine?'
When Schull is not on the road telling people about cool 3D printed prosthetics, he is at his day-job at the Rochester Institute of Technology. Schull proudly tells me his job title: Research Scientist in MAGIC. You can't really get a cooler job title than that (the abbreviation stands for: Media Arts Games Interaction and Creativity).
What inspired Schull to set up e-NABLE in the first place?
Schull says he saw a YouTube video of a South African carpenter who had cut his fingers off on one hand in a shop accident. The carpenter went to a puppet and prop maker in Washington State with whom he designed an inexpensive 3D printable prosthetic. They then discovered this could be useful to many children born without fingers – and these designs were then put on the internet.
Schull said he had previously worked on the idea of building a global repository of designs and assistive technologies that universities all over the world could contribute to and use to produce mass customised prosthetics. But he said this idea failed as he couldn't even get his own university to agree.
"But when I saw this YouTube video I noticed that even though YouTube video comments are usually the most demoralising thing, I noticed there were several people that said: 'This is cool what this guy is doing! I want to do that '", says Schull. "So I had the bright idea on a whim to do a Google maps mashup and added my own comment to the YouTube video which said: 'If you have a 3D printer and you want to help put yourself on this map and if you know someone that needs a hand, put yourself on this map'."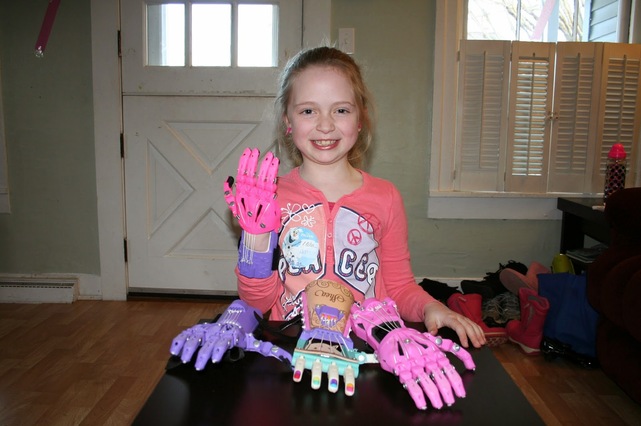 Copyright: Jen Martin Studios
The video went viral as people began putting themselves on the map and within six weeks there were 70 pins on the map. Schull said that after a number of calls from interested parties, he decided to create a Google Plus community that has been growing ever since.
How many volunteers does e-NABLE have now?
"We have 5,200 people that have joined the community saying they would like to help. A fraction of them have actually made devices. Of course there's other ways people can help. We estimate there are about 700 hands that we know to have been delivered by known volunteers in 37 countries."
One major criticism that 3D printers often get is that it takes a very long time to print things. Schull says that with them, a print can take "as much as 10-20 hours" and then there's "three to four hours of assembly" assuming everything goes well. He says it's a "real labour of love".
The really exciting prospect for this technology is in developing counties. Is this where e-NABLE is flourishing?
"Not yet. So far the vast majority of our recipients have been frankly some of the luckiest kids on earth. They have caring parents, they're living in stable environments and are well connected to the internet. Those are the people who have found us first. But the global need is huge."
How do these compare to traditional prosthetic limbs?
"They are very different. [Traditional prosthetics] are very expensive, worth thousands of dollars and we give ours away for free," Schull says. "Ours are very cheap, lightweight, water-proof, and kid-friendly in look and in feel. They are body-powered so they help the kids strengthen their muscles.
They are less robust and less sophisticated than commercial prosthetics - but sometimes you make the comparison between peanut butter and caviar – they both have their place but a lot of kids would prefer peanut butter anyway!"
For now Schull says that most of the 3D prosthetics are designed for children but they are working on developing hands and arms for adults too – and he guesses "within a year or two there will be far more adults with e-NABLE hands than children".
Amazingly the goodwill of simply creating 3D prosthetics does not just stop once they are sent off to the kids. Schull says there is always an on-going dialogue with their recipients as it's "not simply a manufacturing process".
I ask Schull about the big $600,000 grant e-NABLE has received from Google. How do they plan to use the money?
"The Google grant is a huge endorsement and a great opportunity for us and we are very excited about it. We will be running design challenges, going to be creating new designs, and doing assessments of the utility and impacts of these devices."
But Schull adds that e-NABLE still needs money to support volunteers, educators and aid organisations so are actively seeking funding.