Human Resources
Typical 24: Chris O'Sullivan, Lexoo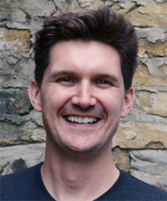 Name: Chris O'Sullivan
Job title: CTO
Company: Lexoo

Location: United Kingdom, UK
Years' experience: 10 years
What time do you reach the office each day?
9:30
Is your job varied?
As I'm the CTO I get to do all kinds of things (but mainly coding!) Because I was the one who created the automated invoicing system, I typically handle our accounts!
Is your job creative?
I think coding is by definition creative. All developers are creative.
What do you spend the majority of your time doing?
Coding - singing silly songs.
Do you personalise your desk?
Nah. It's just covered in junk I haven't got around to dealing with. The only personalisation is a calendar my wife got me which has pictures of me on it every month.
Would you describe yourself as creative?
Well, I probably wouldn't introduced myself like that: "Hi, I'm Chris, I'm creative" - but deep down I think I am.
Do you have any quirky daily rituals?
We're pretty big on table-tennis in the office (terrible stereotype, but there you have it) - and I'm not very good, so I need the practice. We actually have a leaderboard and a very developed set of rules.
Do you tend to work on your own or with colleagues?
We're very collaborative at Lexoo - no feature goes out without a few eyes on it. We try to make sure all the non-technical decisions are resolved before coding begins (things like email copy, button placement etc.).
How many hours on average do you work a day?
8
Roughly how much time do you spend each day on email? Taking calls? In meetings?
We try to keep meetings down to a minimum. Generally, if there's something to be discussed it can be shouted across the room, or even better, asked in the slack channel. The phone rings quite often for customer support, and I have sometimes answered this (talking to customers is terrific for developers, you get a real feel for their problems)
Do you use social media much for work?
Nah. I do use LinkedIn for talking with people who I don't really have a connection to I guess. Very rarely I might tweet a service that we use for customer support.
What do you enjoy most about your work?
Working for a small company means that everything you do makes a difference, there's no room/time for doing busy work! It's great when you see customers actually USE the features you made!
What type of music (if any) do you listen to at work?
There's a genre of music called 'Krautrock' (terribly un-pc I know - but it is real!). This is a genre of music developed in Germany in the 70s, and one of the defining factors is a strong, steady drum beat. I find listening to a repetitive, consistent beat really conducive for coding, and helps me really think things through.
What do you do for lunch?
Our whole team has lunch together every day at our communal table, which is a great way to build camaraderie. We typically don't talk about work over lunch, but just yak away about whatever TV show we're watching, or funny thing we'd read on twitter.
Do you socialise with work colleagues?
Every Friday at 5 o'clock we have 'Beers with Peers' - a name we stole from our investors: Forward Partners. We just stand around in the office with Beers (or wines, or non-alcoholic drinks), play some music, and generally hang out until we get sick of each other and go home.
Are there any tasks (through your career) you've been especially glad to get rid of?
I hate CSS so I love it when I get a third-party Front End dev to work on it (but I generally have to do it). Also, I've trained some members of the team some basics of html, so I don't have to do copy tweaks.
What is your last task of your day?
I think I'm more productive earlier in the day than at the end of the day, so I like to leave boring or repetitive jobs until the end of the day.
How do you like to relax after work?
Me and some mates get together every week to play board games.
Do you keep checking email through the evening?
Sure I do! I'm excited to see what customers have come in, or what new sales we've made. Also every morning we have an automated email that goes around that lists out the enquiries that came in the previous day, and how much we made in sales which is a great way to start the day.
Do you take work projects home with you?
Yep, I like to do more research activities during the weekends to find out about technologies I might need during the working week. Or if I have a long running script I might keep it running on my terminal so I can keep tabs on it.
What would you say to your 20-year old self?
To invest in Facebook and Apple stocks
If you could try out any job for a day, what would you choose?
I had to think long and hard about this - because I really honestly love being a developer, it's hard for me to think of something else I'd rather be doing. That said, maybe I'd like to spend a day as an Ice Cream taster.
What device did you use to answer these questions?
My MacBook Air on my text editor (Atom)
Do you use your own personal device for work?
Yep - my own laptop and phone.