Human Resources
The CMO Files: Juliette Rizkallah, SailPoint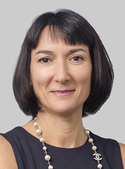 Name: Juliette Rizkallah
Organisation: SailPoint
Job title: Chief Marketing Officer
Location: Austin, Texas
Where were you born and raised?
Paris, France
What was your first job?
I was a consultant at Arthur Andersen in France.
What was the first product you got really excited about?
My first mobile phone in 1995. As someone who was constantly traveling, it changed my life.
Who has been the biggest influence on your career?
Oldrich Fischmeister, who was a Partner at Arthur Andersen France. He taught me to not be afraid of jobs, engagements or tasks that I had no training for. He allowed me to jump and take any opportunities and chances I could find. He, early on, taught me to be fearless with my career.
What has been your greatest achievement?
I am most proud of having co-founded a French charity organisation named "les Restaurants du Coeur" while in college in Paris. To this day, les restos du Coeur is still the most significant charity organisation in France and feeds millions of people during the winter days. You can get a peek at me in the early days of the organisation here.
What has been your biggest mistake?
Trusting that my manager will have my back, but this has also led to some of my biggest opportunities.
What is your greatest strength?
Delegating and trusting my team. I also don't underestimate my ability to hire people who will help move the team forward in the first place.
What is your biggest weakness?
Being too blunt (or maybe that's just being French.)
What do you think is the aspect of your role most neglected by peers?
Marketers come from various disciplines, from branding to communications to demand generation. I have found that many of my peers neglect the area and the metrics in which they were not trained or taught. I learned to build a teams around me that will complement my skills, so nothing gets neglected.
Which word or phrase is your mantra and which word or phrase makes you squirm?
I both like and dislike: "What does not kill you will make you stronger". In the moment, it's not something many of us want to hear, but it still rings true.
What makes you stressed?
Childcare. I've written about being a mother to young children as an executive.
What do you do to relax?
Pilates
What is your favourite song?
Down Under by Men at Work
Which book taught you most?
The Goal by Eliyahu M. Goldratt and Jeff Cox left a huge impact on me. In fact, I almost went into plant management after my MBA because of it.
Do you have a team or sport that you follow?
No
Which country would you like to work in?
Australia
Which company do you think has the best marketing?
Accenture, because for a traditionally conservative, B2B company - they do a great job at keeping their messaging and branding updated and relevant, and they don't seem to be afraid to try new digital tools. They also managed the best branding transition I have ever seen back when they were Andersen consulting, prior to becoming Accenture.
What do you love most about your job?
My team
What is your favourite book?
L'oeuvre by Emile Zola
What keeps you awake at night?
Nothing. I sleep like a baby.