Human Resources
Millennials talk careers: Sam Morrow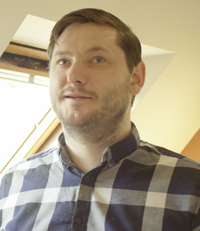 Name: Sam Morrow
Age: 31
Education: Lagan College Belfast, Leeds College of Music
Current role: Senior Software Engineer, Jump.Work
Ideal role: Chief Technology Officer (CTO)
Are the stereotypes about millennials true?
Society has changed dramatically, and part of that is the explosion of social media which enables people to remain connected and informed. This probably makes everyone a bit more selective, not just millennials.
Rather than accepting rhetoric criticisms that millennials are lazy, or aren't loyal employees, I think the automatic assumption that employers deserve loyalty has been shifted. I also think the attempts of boosting confidence in children, teenagers and young adults has also had an effect on attitudes. Online learning courses through organisations such as Coursera have become more accessible and tailored to the individual, encouraging people to learn in ways they might not have previously.
I do think that every generation has grown up to complain about the next one, and arguably that's significantly aversion to change, plenty of ageism (although it's often worse the other direction) and a bit of a culture clash, more than any generalisations simply being true.
What benefits most attract you to a new position?
I think the main motivation for any individual is the pay followed by equity opportunity, an energised team and a creative workplace environment.
In the long term which of the following is most important to you? (Please explain why?)
Career development
Work/ life balance
Salary
This completely depends on the different stages of your working life. Career development, salary and work/life balance are all phases you need to experience in order to learn. In the long run, I would say the work/life balance is the one thing you'd regret if you ignored this throughout your career.
What do you think most companies are getting wrong when hiring/ retaining younger workers?
Sitting still doesn't pay - it's been proven that for the majority, job switching provides you with more money and opportunities than staying loyal to only one company. Not enough employers provide the opportunities to help people develop and learn, allowing them to take on new challenges. Unfortunately, most employers hire new people for new needs and tell existing employers to "keep doing what you're doing well".
If your company is in a market, such as technology where you compete more for workers than workers compete for you, then you need to exert your efforts to keeping people on-board, creating a growth environment. If a job is boring, hire someone to automate those parts, and try and get your workforce to solve more meaningful, complex problems.
You need to help people through life, most real problems are life based. Low amounts of holiday time, heavy restrictions on when it can be taken, minimum levels of maternity / paternity leave, that all matters to an employee.
Looking back, is there anything you'd change about the route you took to your current career?
Not at all. I've enjoyed the variety I've had throughout my career and I think online education has been fundamental to growing and developing myself, rather than relying on jobs to do it for me. Using online learning providers, such as Coursera has allowed me to take control of my education and change my life.