Mobile Communications
C-Suite Talk Fav Tech: Jim Whitehurst, Red Hat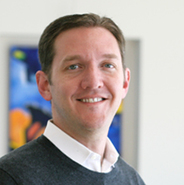 Name: Jim Whitehurst
Job title: CEO
Company: Red Hat
Industry: IT
Location: Raleigh, NC, U.S.
Years' of experience: 20+
What is your favourite personal gadget?
I travel a ton, and I obsess over minimizing weight. I love the new Zolt power adapter. It allows me to charge my computer, tablet, and phone with one small charger that's not much larger than a pill bottle. I highly recommend getting one!
Do you have a favourite piece of personal software?
I love Chrome. I use it on all my devices. It allows me to keep one set of bookmarks, keep tabs open, etc. Also, its integration with Google Docs allows me to easily work offline, which I need with my travel schedule.
What was the first piece of technology you got really excited about?
My good old Kaypro 2! That's showing my age :-) Two floppies, 64K memory, and CPM. That's what really got me started with computers.
What device improves your life most at work?
Smartphone, without a doubt. I bounce back and forth between Android and iOS. Right now, I love Google Fi with the Galaxy 5. I use it for email, or when I take paper notes or write on a whiteboard, I can take pictures. It's impacted almost every aspect of how I work.
What software keeps you most productive at work?
I'm torn. It's a toss-up between Evernote and its ecosystem and Toodledo and its ecosystem. Those two software/services are central to my entire workflow. They both have a nice browser experience, mobile experience, and compatible laptop clients (including Linux).
Is there any technology that has become extinct that you would like to resurrect?
While it's not extinct, I really hate to see the decline of the active styluses (or styli). I like taking notes and captive touchscreens do not cut it.
Is there any technology you would personally recommend that you don't think enough people know about? (Hardware or software, work or personal.)
I love the Samsung Galaxy Note tablets. I have the 8", 10", and 12" versions. I like taking handwritten notes, and these are the best for that. They also work well with Evernote and its handwriting mode.
Do you think anything about your personal use of tech would surprise your colleagues?
Hmm. I think people outside of Red Hat would be surprised by how relatively deep I am into Linux. I'm a lot more techie than most people realize. Years ago, I remember getting Fedora working on a netbook with a funky video card for our head of customer support. We both laughed at the irony.