Data Center & Storage Solutions
Typical 24: Lisa Rhodes, VP Market Development, Verne Global
IDG Connect is looking to speak to IT, business and marketing professionals across the spectrum to discover more about their very different, typical working days…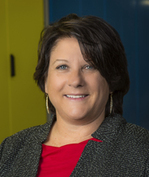 Name: Lisa Rhodes
Job title: VP Market Development
Company: Verne Global
Location: Miami, Florida USA
Years' experience: 25 years
1. What time do you reach the office each day?
My office, when in country, is in my home. Given the global nature of the company my day can start as early as 5am EST with a journalist, potential customer, or client calling.
2. Is your job varied?
That is the beauty of this job. Just when I think I've got a routine figured out something at a macro level can change the focus for the day, week or month. When I talk about the macro level I'm referring to things like a global financial meltdown that changes the course of a client negotiation, minor things like that. As with all early-stage companies, I wear many hats and in this case all my hats are market-facing and market driven. That means I not only keep an eye on what is happening trend-wise at "the information factory" (how our CTO refers to our data centre campus) I'm also monitoring everything impacting computing from chips to Bitcoins.
3. Is your job creative?
Yes, one of the most creative I've had in my career. Keeping the company messaging tuned to the marketplace is a constant and doing it in a creative way is essential to standing out from others in the industry. Fortunately, I work with a team of talented folks from both a PR and Marketing perspective and we all keep each other on our toes.
4. What do you spend the majority of your time doing?
I spend a lot of time on the creative, like thinking about what content is important to deliver to our clients so they know we care about the information they are placing in our data centre. One example is Greendatacenternews.org that I created 5 years ago to curate news from around the globe as it relates to opportunities for IT to lower carbon footprint.
5. Do you personalise your desk?
Well, that depends on the day...like right now I'm using my dining room table!
6. Would you describe yourself as creative?
Yes
7. Do you have any quirky daily rituals?
Quirky…hmmm. I've learned from my 10lb dog that I should stretch every morning. So there are mornings where I do the downward dog beside him. I'm sure that must be amusing to whoever is watching.
8. Do you tend to work on your own or with colleagues?
Team effort is always the best recipe for success. Of course, we all need our time to reflect, plan, evaluate. All in all I think I have a good mix of both.
9. How many hours on average do you work a day?
10-12, depending on the week
10. Roughly how much time do you spend each day on email? Taking calls? In meetings?
I spend half my time on the phone and the other half on email.
11. Do you use social media much for work?
Yes, social media is a big part of part of our marketing strategy. I am a regular tweeter and use social media as a search engine as well.
12. What do you enjoy most about your work?
The variety and the opportunity to think outside the box.
13. What type of music (if any) do you listen to at work?
I don't generally listen to music.
14. What do you do for lunch?
I make a sandwich if at home and when I'm on the road I eat erratically, as most people do when they cross multiple time zones in a week!
15. Do you socialise with work colleagues?
We are geographically dispersed but we do a good job of getting together at least once a quarter.
16. Are there any tasks (through your career) you've been especially glad to get rid of?
Yes! I was in charge of Year2k from an IT perspective for a large telecom company. I didn't sleep for two years.
17. What is your last task of your day?
Email.
18. How do you like to relax after work?
I like to take the dog to the park and go to the beach.
19. Do you keep checking email through the evening?
Sometimes, especially when I'm on the road and time zone changes make it necessary.
20. Do you take work projects home with you?
You could say that I do, since my dining-room often doubles as my office!
21. What would you say to your 20-year old self?
Do what you love or don't do it.
22. If you could try out any job for a day, what would you choose?
A Cirque Du Soleil trapeze artist. It would get me over my fear of heights!
23. What device did you use to answer these questions?
My laptop.
24. Do you use your own personal device for work?
Yes, my iPad.