Human Resources
Typical 24: Louize Clarke, ConnectTVT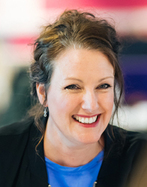 Name: Louize Clarke
Job title: Founder
Company: ConnectTVT
Location: Reading, UK
Years' experience: 26 years
What time do you reach the office each day?
I don't work standard office hours as I'm a bit of a digital nomad but I'm always online from 6.30am.
Is your job varied?
I wear hats of many shapes, sizes and colours so no day is ever the same. ConnectTVT is about joining the tech and digital dots in the Thames Valley which requires a huge amount of collaboration. I love the variety being my own boss brings.
Is your job creative?
I'd like to think it's creative as we are always trying new ways to raise the profile of our tech and digital community.
What do you spend the majority of your time doing?
Juggling multiple projects, planning events and if I'm at GROW@GreenPark, the co-working space I run as part of the ConnectTVT umbrella, chatting to all the residents.
Do you personalise your desk?
I don't have a dedicated desk but my laptop has lots of stickers so I guess that's a degree of desk personalisation.
Would you describe yourself as creative?
I have a creative side but I'm much more about the big ideas rather than the implementation. I don't have the eye that a real creative does for the detail. Luckily I have a great team to help me plug that gap.
Do you have any quirky daily rituals?
When working at home I spend far too much time asking the dog's opinion.
Do you tend to work on your own or with colleagues?
As a start-up I am a small business but I collaborate with lots of other smaller businesses so it feels like we are a team. I've also just brought on a digital Apprentice which I'm hugely excited about.
How many hours on average do you work a day?
At least ten but broken up into different shifts throughout the day. I'm not a 9-5 worker. I also find it really freeing to spend a couple of hours at the weekend working on bigger picture projects.
Roughly how much time do you spend each day on email? Taking calls? In meetings?
It varies. Because I don't always work orthodox hours I tend to send lots of emails to get things going first thing in the morning. I'm not a big one for calls so keep those to the absolute minimum. Meetings take up about 40% of my day realistically.
Do you use social media much for work?
Yes, we use most of the platforms – Facebook works well for our community as does Twitter. LinkedIn is where I see real impact and I've just discovered the joy of Instagram which absolutely appeals to my creative side.
What do you enjoy most about your work?
I control my own destiny and genuinely love the businesses I have created.
What type of music (if any) do you listen to at work?
It depends on my mood; my musical tastes are very eclectic but I'm a massive Foo Fighters fan.
What do you do for lunch?
Grab something when I remember at my desk.
Do you socialise with work colleagues?
Occasionally because most of us having been busy building our businesses for the last few years.
Are there any tasks (through your career) you've been especially glad to get rid of?
I absolutely hate admin and pointless forms so I always try to delegate those.
What is your last task of your day?
Depends on what projects I am working on but usually checking social media.
How do you like to relax after work?
I'm still trying to find the magic that switches my brain off from work.
Do you keep checking email through the evening?
Always, although I'm trying to have some down time in 2017 and leave the mobile alone.
Do you take work projects home with you?
There is no home and work- it all converges.
What would you say to your 20-year old self?
Don't take the safe option do the job you really want to do, not what's expected of you.
If you could try out any job for a day, what would you choose?
Set designer for film and stage.
What device did you use to answer these questions?
MacBook
Do you use your own personal device for work?
I guess – it's my business!