Human Resources
Typical 24: Bob West, CipherCloud
IDG Connect is looking to speak to IT, business and marketing professionals across the spectrum to discover more about their very different, typical working days…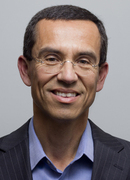 Name: Bob West
Job title: Chief Trust Officer
Company: CipherCloud
Location: My office is wherever I'm travelling
Years' experience: In technology since 1984 and in infosecurity since 1995
1. What time do you reach the office each day?
Whenever I wake up. I travel a lot and spend lots of time in hotels, airports and other people's offices.
2. Is your job varied?
Yes - I have the opportunity to collaborate with the sales, marketing and product teams.
3. Is your job creative?
Yes - part of my job is helping build the company. In order to do that, you need to determine what the company will look like in the future and create a roadmap to get there. I have the opportunity to do that and really enjoy that aspect of my job.
4. What do you spend the majority of your time doing?
Phone calls, meetings with our sales team, presenting at conferences.
5. Do you personalise your desk?
If personalizing the background on my computer counts, yes.
6. Would you describe yourself as creative?
Yes
7. Do you have any quirky daily rituals?
I start out by visualizing a positive day and then running or doing yoga
8. Do you tend to work on your own or with colleagues?
About 80% of the time I spend with colleagues
9. How many hours on average do you work a day?
12-14 hours, business dinners are usually pretty low-key.
10. Roughly how much time do you spend each day on email? Taking calls? In meetings?
Email - 1 hour, calls 3-4, meetings 4-8
11. Do you use social media much for work?
Yes - a big LinkedIn user.
12. What do you enjoy most about your work?
It doesn't feel like work.
13. What type of music (if any) do you listen to at work?
Jazz and classical
14. What do you do for lunch?
Depends on where I am. I travel a lot and need to be very focused on eating healthy. I will usually have a salad or sandwich.
15. Do you socialise with work colleagues?
Yes
16. Are there any tasks (through your career) you've been especially glad to get rid of?
Managing people
17. What is your last task of your day?
Going to sleep
18. How do you like to relax after work?
Listening to music or watching a movie
19. Do you keep checking email through the evening?
Yes
20. Do you take work projects home with you?
Yes
21. What would you say to your 20-year old self?
Blend work and fun so work doesn't feel like work.
22. If you could try out any job for a day, what would you choose?
The President of the United States, but only for a day. It has to be an amazingly hard job to do.
23. What device did you use to answer these questions?
My laptop
24. Do you use your own personal device for work?
Yes and no