Human Resources
Typical 24: Barbara Marino, Datalicious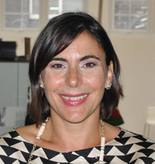 Name: Barbara Marino
Job title: Commercial Director - EMEA
Company: Datalicious
Location: London, UK
Years' experience: Nearly ten years
1. What time do you reach the office each day?
Whether I am heading into the office or working from home, I start the day at 7.30am.
2. Is your job varied?
Very! No day is the same, it is very varied indeed.
3. Is your job creative?
Not in the traditional sense, but it's creative as I am often pitching new business ideas and concepts to my clients.
4. What do you spend the majority of your time doing?
At the moment, I spend most of my time building relationships with clients and promoting the company.
5. Do you personalise your desk?
I often work from home, so my desk isn't particularly personalised. My laptop - which comes with me everywhere, is definitely personalised.
6. Would you describe yourself as creative?
I would say I am fairly creative, but not nearly as impressive as some of the people I work with.
7. Do you have any quirky daily rituals?
I wouldn't say it was 'quirky', but I have a morning coffee ritual, 45 minutes of 'me-time', which I really value. This time is sacred to me, it is my thinking time.
8. Do you tend to work on your own or with colleagues?
Datalicious has offices worldwide so I am often working collaboratively with colleagues who are on the other side of the world to achieve company goals. However, I do also spend a lot of time with clients on the phone or face-to-face.
9. How many hours on average do you work a day?
This varies, but on average I'd say around nine to ten hours a day.
10. Roughly how much time do you spend each day on email? Taking calls? In meetings?
I am constantly checking my emails throughout the working day. I couldn't give an exact time - but most of my days are spent either on the phone with clients or in a meeting with them face-to-face.
11. Do you use social media much for work?
Yes, I use it a fair bit.
12. What do you enjoy most about your work?
The relationship management part, finding and delivering solutions that help my clients achieve their goals and move their business forward is something that I always enjoy.
13. What type of music (if any) do you listen to at work?
I normally have Jazz FM on in the background whilst I work.
14. What do you do for lunch?
This depends where I am and who I am with. I always prefer lunch with company and sushi would be my first choice of food!
15. Do you socialise with work colleagues?
Yes, whenever possible I do.
16. Are there any tasks (through your career) you've been especially glad to get rid of?
I am glad I don't have to do any heavily manual admin tasks.
17. What is your last task of your day?
The last task of my day is checking my calendar for the following day, making sure nothing has changed and I am up-to-date with everything.
18. How do you like to relax after work?
I enjoy walking my dog after work; I also like spending time with family and friends, whether that be socialising or cooking - I feel that is when I properly unwind.
19. Do you keep checking email through the evening?
Hate to admit this but yes I often do – unless I am with friends!
20. Do you take work projects home with you?
My work and home life balance is important to me, but I frequently work from home so bringing work home is inevitable!
21. What would you say to your 20-year old self?
Take your time, see your ideas through and follow your instinct.
22. If you could try out any job for a day, what would you choose?
The first job that comes to mind is a cartoon artist; I think that would be a lot of fun!
23. What device did you use to answer these questions?
My Apple MacBook Pro.
24. Do you use your own personal device for work?
Yes.