Financial Management Solutions
Typical 24: Jeremy Roche, Founder and CEO, FinancialForce.com
IDG Connect is looking to speak to IT, business and marketing professionals across the spectrum to discover more about their very different, typical working days…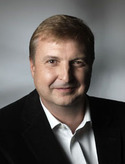 Name: Jeremy Roche
Job title: Founder and CEO
Company: FinancialForce.com
Location: Oxford, UK
Years' experience: 30 years
1. What time do you reach the office each day?
I never really leave my office. I don't stop working at 5pm simply because I don't have a 'normal' 9-5 job. I have so many devices that are always in my inside pocket that I can't help working not only during work hours but after work and at home too.
2. Is your job varied?
Absolutely. I am involved in each aspect of the business so I have a vested interest in every area of FinancialForce.com. This means one day is never the same as the last. At FinancialForce.com, everyone is on one team, meaning that I work across the board.
3. Is your job creative?
Yes. I always need to be thinking outside of the box to ensure our business stands out from the crowd. The last 12 months saw us growing over 80% so that means the company is changing and evolving almost every day.
4. What do you spend the majority of your time doing?
I spend most of my time keeping the business flowing and removing stumbling blocks. I am always on call to provide the team with the information they need and I'm always looking for new business opportunities. I spend as much time as possible with customers, that's one of my favourite things to do.
5. Do you personalise your desk?
I don't actually have a desk as I am mobile worker. With all my gadgets, my pockets and hands are my desk! If I'm in the office I'll sit on the floor with the team, often in what we call the collaborative area. Offices create barriers and I don't believe in barriers.
6. Would you describe yourself as creative?
Yes. Although I'm not the traditional 'creative,' as mentioned earlier, I have to think outside the box so I am creative when needs be. I like to try out new activities in my free time which can be seen as creative – I'm becoming a big fan of DJing and wingwalking! Am I creative artistically? Well I have an opinion but I'm not creative like that.
7. Do you have any quirky daily rituals?
The first thing I do when I wake up in the morning is check my email. The next is a good cup of tea – I'm just not worth talking to before I've had a good strong one. I often travel to San Francisco and even then, I need to take big bags of Yorkshire Tea with me so that I'm productive. We've even installed a teapot in the office to do it properly. I'm in favour of long showers especially as I find it a good place to think.
8. Do you tend to work on your own or with colleagues?
Both. As I work from home in Oxford and travel a lot, it's very much a singular environment. However, I do have a 'virtual Jeremy' based in the US which is how I communicate with the team there - this involves a mobile segway dressed in a full suit with a tablet at the top which is where my face miraculously appears from the other side of the Atlantic. I use the controls to wheel myself around the office to talk to different members of the team – it works brilliantly! I make sure I don't abuse it though as I do rely on the team to keep VJ charged and ready to go.
9. How many hours on average do you work a day?
I normally work at least 10 hours a day. But as I travel a lot, when I'm away from home I'll often just keep going.
10. Roughly how much time do you spend each day on email? Taking calls? In meetings?
We try to use email as little as possible. We build our products on the Salesforce1 platform and use our own products and Salesforce's to run the business. At the heart is a social engine 'Chatter' so we'll try to use that in preference to email. What I spend my time on varies from day to day depending on the focus. We try to keep meetings short and not to have them repeat for the sake of it: meetings can take place out of habit if they are allowed. I spend as much time as possible focussed on customers and prospects.
11. Do you use social media much for work?
Yes absolutely. We use the Salesforce Chatter which is an instant messaging forum, Twitter, Facebook and LinkedIn.
12. What do you enjoy most about your work?
Everything! Well nearly everything anyway. I'm grateful for the opportunity to be building such a high growth company, building products that are changing the ways that our customers can engage with their customers and run their businesses in whole new ways. If I had to pick just one thing, it would be the FinancialForce.com team. After all, it is people that make a business really work.
13. What type of music (if any) do you listen to at work?
I don't listen to music while I'm working. I know many people who say it helps them concentrate but for me it becomes a distraction.
14. What do you do for lunch?
I sometimes just have lunch as part of a lunch meeting but when I have time, I normally grab a sandwich – I rarely finish it though! I'm not a big eater during the day.
15. Do you socialise with work colleagues?
Not a lot when I'm in the UK as I work alone but I am always in contact with the team as it's very important to be approachable. When I'm in San Francisco, I do like to socialise with the whole team. I think this is imperative in an organisation – especially if you don't see them on a daily basis.
16. Are there any tasks (through your career) you've been especially glad to get rid of?
Yes, but answering them does age me. When I was running a consulting team, I'd need to do the project planning and resource allocations manually using a spreadsheet. There was nothing like FinancialForce's Professional Service Automation app then. I'd need to call all the consultants to go through the projects one by one. Same when I was running sales before real CRM solutions exist, hours of phone calls just to get to the forecast. Today, between Salesforce's front office and FinancialForce's ERP applications, I can see the whole business through dashboards. And I can see it all on my mobile devices, so I really can work from anywhere.
17. What is your last task of your day?
I check the sales dashboard so that I can see the priorities for the next day. And have a last cup of tea.
18. How do you like to relax after work?
The type varies but it's ideally served in a large glass! And that is also when I like to listen to music or read something to relax.
19. Do you keep checking email through the evening?
Yes, definitely. As mentioned, I don't really switch off.
20. Do you take work projects home with you?
My work projects go everywhere with me at all times – they're all consuming so the short answer to this would be yes.
21. What would you say to your 20-year old self?
Make the most of those 20s - life catches up on you very quickly. Don't squander the time while you have it at that age.
22. If you could try out any job for a day, what would you choose?
I'd like to be Prime Minister. Just as long as it is only for one day.
23. What device did you use to answer these questions?
I did some on a Mac, and some on an iPad.
24. Do you use your own personal device for work?
The company feeds my device addiction, fortunately. I like to use our products on as many devices as possible as it gives me a good view of what our customers see when they do the same. I guess I'm a geek at heart really.