Human Resources
Typical 24: Joel Hughes, Indiegogo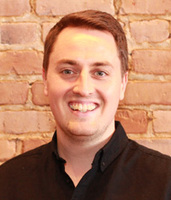 Name: Joel Hughes
Job title: UK Design Technology and Hardware Manager
Company: Indiegogo
Location: London, United Kingdom
Years' experience: 7+
1. What time do you reach the office each day?
Most days I work remotely, so I tend to fill my days with meetings, events and calls. I'm usually online around 7am responding to anything that's come in overnight.
2. Is your job varied?
It is incredibly varied, which is one of the reasons I enjoy it so much! I think that variety comes with the territory when working closely with early stage startup businesses.
3. Is your job creative?
It certainly can be at times. I occasionally find myself having to think way outside the box in order to find a solution to something, and even turning my hand to something I've never done before to ensure we meet a deadline.
4. What do you spend the majority of your time doing?
For the most part I'm working closely with entrepreneurs who want to launch a product in the coming months. It's important that I understand as much about their business as possible and make sure they have everything ready ahead of launching on Indiegogo.
5. Do you personalise your desk?
If I worked in one fixed location for most of the time I'm sure I would. There would be a few gadgets I've pre-ordered online, but instead they have their own space at home.
6. Would you describe yourself as creative?
I like to think so; I try to come up with innovative solutions to existing challenges.
7. Do you have any quirky daily rituals?
I try and find a new coffee shop to work from for a couple of hours each day. I like finding new places in London and supporting small independents if possible.
8. Do you tend to work on your own or with colleagues?
99% of my colleagues are split between San Francisco and New York, so geography doesn't really play in my favour. We have several catch ups each week, which usually falls between 5pm and 8pm UK time.
9. How many hours on average do you work a day?
I've never really thought about how much this adds up, as I really enjoy what I do. However, with colleagues in the US, I'm on emails longer than your average worker.
10. Roughly how much time do you spend each day on email? Taking calls? In meetings?
Email is great but it definitely takes up a lot of my time. I'd say 30% on emails, 30% on calls and 40% meetings and events.
11. Do you use social media much for work?
Every day without fail. It's important to keep on pace with any new developments in the tech or hardware world, and you find out most of this through Twitter in the first instance. My Twitter handle is @IGGJoel.
12. What do you enjoy most about your work?
The variety of entrepreneurs I get to work with is fantastic…one day it'll be the next big augmented listening device, and then the next day brings a totally new healthcare product.
13. What type of music (if any) do you listen to at work?
Generally it's the background noise of wherever I am on any given day. Otherwise I'm quite partial to some hip hop or dance music, depending on what mood I'm in.
14. What do you do for lunch?
I'll make this at home 2 or 3 days a week and the rest of the time I find somewhere out. It's a great way to catch up with clients or new entrepreneurs and get to know them over a salad or baguette.
15. Do you socialise with work colleagues?
When in San Francisco yes, otherwise I see friends after work.
16. Are there any tasks (through your career) you've been especially glad to get rid of?
I used to hate cold calling people in previous roles. You can sometimes feel like a bit of a pain in the neck as everyone is so busy. Whilst working with Indiegogo, I do have to occasionally call people; however, I enjoy reaching out to entrepreneurs as it's generally to discuss how we can support them in launching and progressing their innovations…something which they appreciate, as we're there to genuinely help them.
17. What is your last task of your day?
With the majority of my colleagues coming online at 4 or 5pm UK time it's usually replying to anything urgent from across the pond.
18. How do you like to relax after work?
There are some great shows on Amazon/Netflix/Now TV right now, so a few nights I'll cook (which helps me relax) and have a night in watching some shows with my fiancée. Otherwise you can't beat dinner and drinks with friends.
19. Do you keep checking email through the evening?
Once or twice, yes, depending on what else I am doing.
20. Do you take work projects home with you?
I prioritise pretty well, so this isn't usually an issue.
21. What would you say to your 20-year old self?
Enjoy yourself but put more money away than you're currently doing. It will be a shock moving from Lincolnshire to London and realising your money doesn't go as far.
22. If you could try out any job for a day, what would you choose?
I'd love to spend a day in Alan Sugar or Richard Branson's shoes, just to see what a day in their life is really like. I'm a bit of an entrepreneur at heart and love their life stories.
23. What device did you use to answer these questions?
A Chromebook, which is great because it rarely slows down. I get so frustrated at slow hardware or internet connection.
24. Do you use your own personal device for work?
It's all mine and I know the shortcuts for everything.