Human Resources
Typical 24: Scott Phillips, Rise Art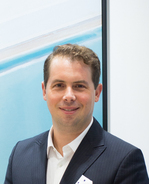 Name: Scott Phillips
Job title: Founder
Company: Rise Art
Location: London, UK
Years' experience: 5 at Rise Art
What time do you reach the office each day?
I aim to get into the office between 8:30-9am. Often I'll do breakfast meetings externally with clients, investors or partners as I find it easier than interrupting the middle of the day. Now that I have kids, twice a week I drop them off at nursery and arrive slightly later.
Is your job varied?
Absolutely. Every day throws a new wrinkle, and it's easy to get distracted with urgent issues or putting out fires. It's critical that I set out each morning things that I want to make absolutely sure I get done that day, otherwise it's easy to see the day slip away.
Is your job creative?
Yes. Starting a company from scratch, you have to be creative. Each day presents new challenges and hurdles. And often with a startup the entire nature of the business is a bit ambiguous, and you rarely have the budget or resources to do things the way you would like. You have to be extremely creative to find ways to test and prove assumptions quickly. I love that challenge.
What do you spend the majority of your time doing?
As a founder of the company the things I am most involved in are working on the product and business strategy on a day to day basis, to test and improve our offering and to ultimately make it a success. I am very active with customers, partners and artists. And as the CEO of the company I am also very active in recruitment, retention and making sure there is money in the bank and that our cash flow is where we want it to be.
Do you personalise your desk?
I have a small plant, two photos of my kids and a stack of papers that I keep meaning to go through....
Would you describe yourself as creative?
Yes. I like being involved in the creative elements of the business and dreaming up new ways to improve the experience for our artists and customers.
Do you have any quirky daily rituals?
I try to make room in my schedule to spend time walking each day - I find it clears my head and allows me to think. I also spend time each night reviewing what took place that day to set my agenda for the next day.
Do you tend to work on your own or with colleagues?
A mixture of both. As the face of Rise Art, I am often in meetings or working with multiple people, but I try to carve out a few hours each day for uninterrupted work myself.
How many hours on average do you work a day?
Probably too many. I am in the office or working around 10-11 hours a day. But I enjoy what I do so the time goes by quickly. I think that's what's important.
Roughly how much time do you spend each day on email? Taking calls? In meetings?
Email definitely too much time. I try to limit my email to chunks of 1-3 times per day, but I often fail. I think I would be disappointed to know exactly how much time I spend on email, but I also know it's an important element of my job. I try to avoid phone calls apart from meetings - I prefer text where possible. I am in meetings a few hours every day.
Do you use social media much for work?
Personally I don't apart from a bit of Twitter and Instagram. We do use the various channels extensively for the business but my own accounts remain personal.
What do you enjoy most about your work?
I love it when we hit our goals, make progress or receive great feedback from our customers or artists. I have received tons of thank yous and it always makes me happy. We also have a charity called art for care (www.artforcare.com) With every artwork ordered, we donate an art kit to children's wards in local hospitals. I deliver the kits regularly myself, and I love being able to give back and see how it positively impacts those we work with, and the kids.
What type of music (if any) do you listen to at work?
We have a Spotify playlist at the office which is fought over regularly. I try to mix it up a bit, but I am not sure the entire team appreciate my taste in music.
What do you do for lunch?
A few days a week I am eating at my desk. I try to do one or two light lunch meetings a week outside the office and our team all eats together on Fridays as a group in the office.
Do you socialise with work colleagues?
Yes - I like to think our team is fairly close, and as we grow, we are trying hard to extend the core culture that makes our company tick. The team is encouraged to arrange group activities. Most recently, every Wednesday people meet after work and go rock climbing in London together.
Are there any tasks (through your career) you've been especially glad to get rid of?
I don't really mind any task as long as I am learning. The tasks which really grind are the monotonous, repetitive tasks that take valuable time but don't help you grow. I try to avoid these for long periods.
What is your last task of your day?
I look over my calendar for the next day, take notes on what I absolutely have to get done and write a brief list so the next day I am not trying to figure it out.
How do you like to relax after work?
I try to spend as much time with my young girls as possible. Parenthood has definitely changed my priorities, and it's so rewarding to spend as much time with them as possible. My wife and I also love cooking and on nights and weekends I am often trying something new out if I have the time.
Do you keep checking email through the evening?
I try to avoid it and this year one of my resolutions has been to be really mindful of how I spend my time at home with my mobile. I have removed Facebook and other social apps from my phone. I found them a huge time sync, and something that I am grateful to rid myself of.
Do you take work projects home with you?
Often I'll take some projects home with me at night or over the weekend that I need to focus on. I'll spend time with the girls, eat dinner, then go back to something that I really need to spend time on for a few hours without interruption.
What would you say to your 20-year old self?
Don't be afraid to take risks, to push yourself. Everything that I have been nervous of doing, but done anyway has always turned out to be worthwhile.
If you could try out any job for a day, what would you choose?
I'd find it fascinating to work on a trading floor in a bank on an exceptionally frantic/volatile trading day where a lot is at stake.
What device did you use to answer these questions?
Desktop. I don't mind typing on a mobile, but prefer 140 characters or less!
Do you use your own personal device for work?
Yes, we are a startup and its byod to the office. We take security seriously, but let our team use the devices they are comfortable with.