Handheld Technology
Australia: Bringing 'One Laptop Per Child' into the future
Though it had noble intentions, the One Laptop Per Child (OLPC) program led a troubled life. A non-profit initiative founded in 2005 designed to bridge the digital divide in the developing world, its goal was to provide rugged, low-cost, low-power laptops to children across the world and improve education.
But it wasn't quite meant to be. Plagued by higher than estimated costs, poor hardware and support, questionable priorities and questions about whether it actually helped improve learning at all, OPLC was never the success it wanted to be. Despite noble ambitions and shipping over two million units, the initiative is largely seen as a failure.
An update on OLPC
One Education (OE) is an Australian non-profit which began life as One Laptop per Child Australia, but has since forged its own path. "OLPC is a wonderful initiative that had, and still has, many great ideas," says Paul Cotton, Apps and Online Manager at One Education. "However, we found that some of them simply don't work in practice despite sounding wonderful on paper."
"Initially OLPC set out to replace teachers with devices - this was an incredibly top-down style of distribution, where you're pushing tech down towards people who are not only not used to it, but actively resent it."
After trying out OLPC's method in rural Australian communities, OE decided to change tack and adopt a more "grassroots" approach to driving technology. "We scouted for ambassadors at the ground level, teachers and principals who were willing to try something innovative, trained them in the use of technology, and delivered tablet PCs to their classrooms.
"By training teachers we were empowering them instead of offending them," Cotton explains. "By letting them come to us instead of finding ways to force the devices on them, we were ensuring that technology was being used properly in the classroom - not simply [being] received and then being stacked in storerooms, or worse, on the street."
The road to 'Infinity'
To date, One Education has trained thousands of teachers in ICT, and distributed over 50,000 devices to children in disadvantaged schools and communities. But the next phase includes a new custom device called the Infinity: a hardy, modular tablet hybrid computer that kids can upgrade themselves and take with them throughout their education.
Aimed at children of primary school age and designed to last 10 years, Cotton describes the Infinity as a "robust tablet and laptop hybrid that you put together yourself." The device comes in eight replaceable parts: the "core" (where the CPU, RAM, Storage and WiFi all live – a Raspberry Pi can also be inserted), the hub that holds everything together and then a camera, battery, screen, cover, charger, and keyboard.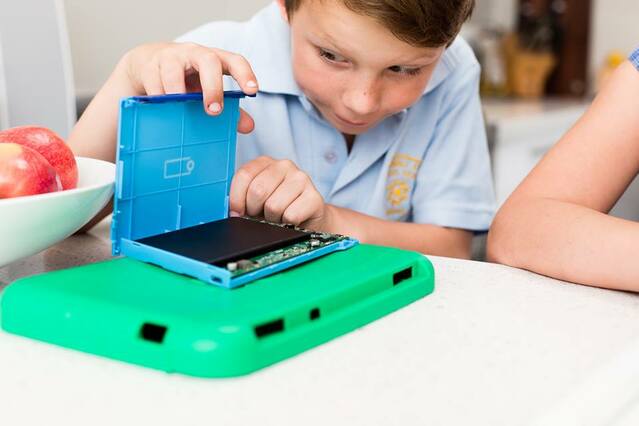 "We've built the computer that we wished we had in school. All of the major parts are able to be swapped out, meaning even a four-year-old can change everything from the camera, battery or CPU with ease. The benefits are obvious: a computer that grows with you, the ability to upgrade individual parts when you want, as you need. Reduced maintenance costs are another bonus - break a screen? No worries, slide a new one in."
The Infinity's birth comes as a direct result of One Education's experience with OLPC. "Every day we watched schools try to cope with increasing demand for technology in the classroom, and struggle to become ad hoc IT departments while external resellers would swoop in to 'save the day' for exorbitant fees," Cotton says.
"After many conversations, brainstorming sessions and lots of feedback from both kids and educators - the Infinity was born."
Another option for schools
Currently running a campaign on IndieGoGo to offer the Infinity to consumers, Cotton is hoping the initial run will be around 10,000 units, with the devices going to what he describes as "tech savvy" schools and parents not just in Australia but around the world. The hope is that the initial runs will help raise funds to subsidise units for less financially well off markets around the world.
Cotton says the main standouts of the Infinity compared to Intel's Edtech or the likes of LearnPads is price and flexibility.
"We don't have any allegiance to particular chipsets or software, so where an Intel Tablet might let you pick between Android or Windows at purchase - the Infinity lets you swap between them as needed. LearnPads offer an almost complete solution, including a very expensive charging rack - but the Infinity offers all of the same, with an included keyboard and a much more cost effective charging solution."
The device also runs a custom fork of Android called InfinityOS. When asked if the plan is to developing its own software ecosystem or utilise education apps already on the market, Cotton says it's a little bit of both. "We recognise that software development is a huge job, and quite frankly we have no desire to compete with the genius of people out there who are already doing a great job in this space." Partnerships with the likes of Scratch Foundation, Literacy Planet, Mathletics, Skoolbo are already in place, but One Education also develops new ones where there's a need.
"We are dedicated to helping schools integrate technology as smoothly and effectively as possible. This has meant that we need to fill in the gaps where Android falls down, or a suitable third party solution can't be found. Networking is a prime example of this - Australian schools operate behind a fairly strict proxy, but it's implemented differently from state to state. Android and third party developers don't handle proxies well enough, or have interfaces too complicated for non-savvy teachers and children - so we rolled our own, and everyone has been much happier for it."
How modularity helps
While Google's Project Ara is probably the most well-known modular project, Cotton says the Infinity's approach is less complicated. "We're sourcing parts that already exist, and connecting them with one of the de facto connector standards of the last decade – USB."
Yet even if it's not quite as complicated as Ara, there are still potential hurdles. "Challenges include making the device as slim as possible, but still leaving room for modules to cool and breathe. Another one is the idea that modularity might increase the e-waste problem by accelerating upgrade cycles or overstocking module units because they can be made more cheaply. Good design can assist with the first issue, and we're incentivising customers to send in pre-loved parts so that we can refurbish and donate them to children in need in order to help combat the latter."
One Education's goal is to ensure individual modules never cost more than $100, with most being significantly less. Future plans include enabling Windows 10 and increasing specs on current modules. "There's room to create additional features like GPS, or alternate power source batteries," says Cotton. "A lot of ideas have been passed around the office from microscopes through to digitiser enabled screens - almost anything you can think of, really."
Ways to beat the digital divide
One of the failings of One Laptop Per Child was the focus on hardware without thinking about the infrastructure – without at least some internet connectivity, a lot of the benefits from owning a laptop are lost. Thanks to greater levels of connectivity, access to the internet is not as big an issue as it once was in many places. And where people still face challenges to get online, the likes of Google and Facebook are trying to beam the internet down to remote areas from balloons and massive solar-powered drones.
While some view these initiatives as more of an effort to gain new customers than benefit humanity, Cotton only sees positives. "We think it's fantastic. It's easy to take the cynical route and only see the self-serving aspect of two big advertising based internet companies expanding their audience... but the benefits for society are huge.
"There are a million problems in this world, and wouldn't they be easier to solve with the help of billions of brains?" he concludes. "That's what connecting the world to the internet does. It increases our global consciousness, and enables more ideas, more solutions, more knowledge and more empowerment for everyone."