Technology Planning and Analysis
C-suite talk fav tech: Simon Carter, Fujitsu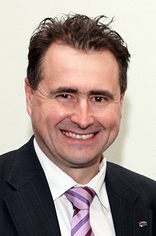 Name: Simon Carter
Job title: VP and Head of Marketing, Fujitsu UK & Ireland
Company: Fujitsu
Industry: Technology
Location: London, UK
Years' of experience: Four years in current role, six years at Fujitsu, over 25 years' experience in marketing
What is your favourite personal gadget?
The SONOS music system. Gone are the days when I would have a huge shelf of LPs and 45s. Now I have my entire music collection (which I have collected over 40 years) held electronically on my Fujitsu NAS drive. I then use a SONOS music system that runs throughout my flat, so that I can choose any track, from any era, via my iPhone, and play it in any room. It can either be the same track everywhere or a different one in each room. This concept would have been unthinkable when, as a spotty teenager, I was bootlegging the album my mate had just bought onto a TDK C-90 cassette to play later on my Sony Walkman. If you have no idea what I am talking about, you are too young!
Do you have a favourite piece of personal software?
To be honest, apart from the usual Office suite, the only software I use is apps on my iPhone. I live and work in London so I rely a lot on travel, and depend heavily on the "National Rail" train app, to find out how and how long it takes to get somewhere. Also the "Bus Checker" app, which is a real Godsend when it comes to knowing how long I have to wait for the next bus to wherever I am going.
What was the first piece of technology you got really excited about?
For me, it was probably SatNav systems for cars. I can remember as an intern in the 1980s having to drive into London from Oxfordshire to collect a visa for my boss who was travelling to Egypt. I got completely lost, and had to phone a mate on the swanky "car phone" that had been installed in the car, as he guided me through London over the phone, via an A-Z he had open on his desk, telling me when and where to turn. Little did I realise that it would not be long before "my mate" would become automated and in the car, doing that job for me electronically.
What device improves your life most at work?
I would have to say the smartphone. I get so many emails during the day, that I use every opportunity to check my inbox and kill those emails that are less important than others – whether I am in the lunch queue or at the coffee machine these are all opportunities to dispatch a few mails to the trashcan in the sky – without a smartphone, my inbox would be even larger and I would be even less efficient in my job.
What software keeps you most productive at work?
I rarely have time these days to read newspapers, so I am very reliant on the BBC/Sky News apps on my iPhone – giving me the headlines, alerting me to breaking news, and generally ensuring I have a tiny bit of knowledge about many things – from the latest cricket scores, to breaking company news.
Is there any technology that has become extinct that you would like to resurrect?
A piece of home technology that seems to have disappeared these days is "picture in picture" TV screens. I regularly used to either try and watch two things at once (keeping an eye on a football match, whilst watching a film) or more often, wait for the next programme to start, whilst still watching a DVD, ensuring that I didn't miss anything. I really don't know why this is rarely available on TVs these days.
Is there any technology you would personally recommend that you don't think enough people know about? (Hardware or software, work or personal)
I have recently invested in a Fujitsu "NAS Drive" – my own personal cloud! I have put all my music and many of my videos/films on there, which means that I can log on from any device, in any location, at any time and listen/watch my favourite stuff, without having to carry it around with me. A great bit of kit!
Do you think anything about your personal use of tech would surprise your colleagues?
I guess I am an early adopter in many ways – I have an iWatch, had every generation of iPod, iPhone and iPad; as above, I have a "NAS Drive", and I am just having electric window blinds (think the film "The Holiday"!) being installed. Despite that, I still keep hand-written ledgers at home of things like post I have sent and received and I write numerous hand-written "to do" lists every day – because it is very tangible and hard to ignore. I have a Kindle, but still prefer a grubby little paperback to read. I have a state of the art SONOS MP3 music system, but still own 5,000 cassette tapes, 500 LPs, 1,000 singles, and 3,000 CDs. I guess I like the best of both worlds!