Mobile Communications
C-Suite Talk Fav Tech: Ojas Rege, MobileIron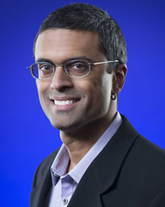 Name: Ojas Rege
Job title: Chief Strategy Officer
Company: MobileIron
Industry: IT- Enterprise Mobility Management and Security
Location: San Francisco, US
Years' of experience: 25+
What is your favourite personal gadget?
I have a different answer every month or so. Right now, I'm liking this little Tile gadget, especially for family keys. But an older gadget that has suddenly become essential to me after months of non-use is the good old-fashioned portable charger. Why? Because Pokémon Go is burning through the battery of every mobile device in our house!
Do you have a favourite piece of personal software?
My needs are not particularly unique but I am a bit obsessive about my Twitter and Facebook apps. The former is my lifeline to mobile technology – when any piece of news happens in the parts of the tech industry I follow, I find out in 20 minutes or less. I love that immediacy. Twitter, for me, is like having a direct line from the internet to my eyeballs. Facebook is my lifeline to family and friends. Together, I check them at least 30 times a day. I love my Pandora stations, too – right now I have been particularly fond of my Biffy Clyro Radio.
What was the first piece of technology you got really excited about?
When I got the Electronic Quarterback in 1978, it blew me away. I couldn't put it down. I don't know if it was the first portable video game or not but it was my first experience, at 11, with starting to integrate technology into my life. I still have my Electronic Quarterback device from 40 years ago – I showed it to my son and he was absolutely befuddled as to why anyone would find a bunch of blinking dots on a terrible-quality tiny screen even vaguely interesting.
What device improves your life most at work?
Portable keyboards. They make a tablet into a computer.
What software keeps you most productive at work?
I am much more of a software than a hardware person. Biometrics rock. The single most important feature Apple released in the last three years, for my productivity at work, was Touch ID fingerprint recognition to replace the device password. What improves my life at work the most is anything that shaves time off my most frequent activities.
Is there any technology that has become extinct that you would like to resurrect?
The first mobile productivity tool I fell in love with was the Palm III in the late 90's. And one of the coolest technologies in those Palm days was Graffiti. It was handwriting recognition software that used a simplified set of keystrokes to represent each letter. It was like shorthand for touch screens. It was brilliant and elegant and I miss it. If I ever met Jeff Hawkins, the founder of Palm, I would thank him for Graffiti.
Is there any technology you would personally recommend that you don't think enough people know about? (Hardware or software, work or personal)
Uber. Really useful. Has anyone heard of that? Oh, you have? Ok then … I don't feel like I am discovering anything before the world anymore because information travels so fast. I really thought the WowWee robot dog I bought for my sons was cool but then they lost interest after a day so I guess it wasn't. Actually, here is a recommendation inspired by my colleague, James Plouffe: the most amazing and underappreciated technology is the thermos. It keeps hot stuff hot and keeps cold stuff cold… but how does it know which is what??
Do you think anything about your personal use of tech would surprise your colleagues?
I never single-task. I am constantly switching context from personal to work and back again. I am hyper-connected. I think my colleagues would probably be surprised that I can focus on anything at all if they saw how I constantly go back and forth between apps and streams of thinking. While I have been answering these questions, I have checked Facebook twice, Twitter three times, Slack once, and swapped across three Pandora stations. Plus, bounced a couple of ideas off my politely interested dog.