Human Resources
Typical 24: Michael Hiskey, MicroStrategy
IDG Connect is looking to speak to IT, business and marketing professionals across the spectrum to discover more about their very different, typical working days…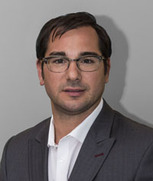 Name: Michael Hiskey
Job title: Chief Product Evangelist, Analytics
Company: MicroStrategy
Location: Tysons Corner, Virginia, USA
Years' experience: 17
1. What time do you reach the office each day?
Breakfast, gym, and sat at my desk by about 8:30 usually.
2. Is your job varied?
My days vary so much! I work at home 2-3 days a week, as I live in New York and the HQ office is just outside of Washington, DC. I'm energized at both places – but work differently. I'm regularly attending and sometimes speaking at events, generally in the US and Europe.
3. Is your job creative?
It's what you make of it. I use my creative juices every day, but love to inspire the people on my team to use their creativity – 20 minds being creative is way more potent than just my own!
4. What do you spend the majority of your time doing?
I split my time between working with my team (white boarding, strategy and planning meetings), writing (articles, blogs, presentations, e-mails) and listening (to clients, partners and developers) to synthesize how we market our products.
5. Do you personalise your desk?
You know it's my space – ID badges from every conference I have been to, my Futbol (soccer) team support, as well as various bits of logo-branded paraphernalia.
6. Would you describe yourself as creative?
I hope that others would describe me that way.
7. Do you have any quirky daily rituals?
I travel a lot. I pat the plane above the doorway for good luck, sit by the wing, am the last one on and the first one off if possible.
8. Do you tend to work on your own or with colleagues?
People energize me – I love the opportunity to be in meetings where we are working through ideas and moving the ball forward on any front.
9. How many hours on average do you work a day?
It is 9:34pm EST as I write this. Enough said.
10. Roughly how much time do you spend each day on email? Taking calls? In meetings?
E-mail is what I do between calls and meetings. I think of it as a necessary part, but not the most productive component of my day.
11. Do you use social media much for work?
Yes! Follow me @mphnyc on Twitter and +Michael1 on Google+ I personally didn't find value in it until I was a CMO for a tech start-up and needed to fuel our social media persona, now, it has become part of how I express myself personally and professionally (Views are my own!)
12. What do you enjoy most about your work?
I have had the opportunity to build the careers of my team, helping them find themselves and make their work meaningful, it's very fulfilling.
13. What type of music (if any) do you listen to at work?
I was a DJ in college – so my music taste is eclectic and varied. Classical when I am writing, up-tempo for morning energy, soft rock or jazz as background like 'audio wallpaper' during my day.
14. What do you do for lunch?
We have an amazing executive briefing center. I often plan my mid-day meetings around there, so I can grab lunch with colleagues, talk about issues of the day and work comingled, then jump into the next meeting.
15. Do you socialise with work colleagues?
Whenever I can. Everyone has busy lives, but I have had some of the most meaningful and ingratiating conversations over a fermented beverage throughout my career – with colleagues and clients alike!
16. Are there any tasks (through your career) you've been especially glad to get rid of?
I've done some jobs that are certainly less fun than others, working for start-ups and technology mega-vendors – but I've found something to learn from every opportunity.
17. What is your last task of your day?
I avoid technology for the last hour of my day, wherever I am. LED light disturbs your sleeping pattern and delays REM sleep. At only 5-6 hours a night, I need all I can get!
18. How do you like to relax after work?
I get to the gym 5-6 days a week, before or after work. I usually try to take walks outside, reconnect with nature and disconnect from things that have keyboards or screens.
19. Do you keep checking email through the evening?
Too much! I try to keep my mind out of work mode, but an occasional glace at whichever device is nearby keeps me sane. I try only to read and not respond, though.
20. Do you take work projects home with you?
Occasionally, when I have an engrossing writing, evaluation or presentation project, I will set aside a few hours on a Sunday to get it done.
21. What would you say to your 20-year old self?
To thine own self be true. Eat less, exercise more and think about how you shape the future. Also, buy some of those tech stocks, they're going to appreciate precipitously.
22. If you could try out any job for a day, what would you choose?
I'd be a life coach, like a Tony Robbins – inspiring people to step up and improve their lives and careers in every way!
23. What device did you use to answer these questions?
I actually glanced at a printed version over dinner, then wrote feverishly on my MacBook Air when I got back to my desk!
24. Do you use your own personal device for work?
Being at MicroStrategy is like I died and went to technology heaven – I have a MacBook, iPad and iPhone. I can't imagine carrying two of anything so my work life is integrated with my personal life.