Human Resources
The CMO Files: Tim DeBrincat, olloclip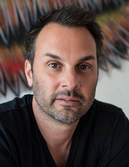 Name: Tim DeBrincat
Organisation: olloclip
Job title: Director of Marketing
Location: Huntington Beach, CA USA
Where were you born and raised?
Born in Chicago, IL. Raised in Southern California.
What was your first job?
I made sandwiches at the local family run deli.
What was the first product you got really excited about?
Growing up in California, it was all about action sports. Anything to do with surfing or skateboarding.
Who has been the biggest influence on your career?
I've been fortunate enough to have some really positive mentors in my life. Biggest would probably be Aaron Behle who is currently CEO of boutique eyewear brand called Salt.
What has been your greatest achievement?
It's always been about teamwork. So, it's not my achievement personally, but certainly as a team it would be taking Oakley past the billion-dollar mark in revenue while resurrecting the brand's identity to something aspirational and relevant.
What has been your biggest mistake?
Biggest mistake would be taking a jump to a new brand without fully researching how they managed their business and treated employees. With sites like Glass Door, it's now easy to get real life input from employees about the culture of specific brands. It's so important to understand where you're going and the potential to grow.
What is your greatest strength?
Biggest strength is taking a lifestyle approach to technical products and making them easy to understand. It's what I've done basically my entire marketing career. All while having a solid understanding of how these products need to play out in the global marketplace.
What is your biggest weakness?
Google Analytics. I'm a creative minded marketing guy, so I'm doing what I can to continue to educate myself on the analytical side of marketing. It's so important to understand the performance of the campaigns you are executing.
What do you think is the aspect of your role most neglected by peers?
Time. We work in a fast-paced environment, but things take time to concept and create if you want great work. So many brands take a long time to develop innovative products and then rush them to market.
Which word or phrase is your mantra and which word or phrase makes you squirm?
"Be authentic" is a great mantra. You need to believe in what you are creating; otherwise why should you expect someone else to? I've drank the Kool Aid from each brand and believed in every product I've represented. "Just make it work" makes me squirm. I'm not one to force things and develop soft or unpolished work. It's a sloppy way to do business.
What makes you stressed?
Bad attitudes and people who cry wolf when there is no need to cry wolf.
What do you do to relax?
Living by the beach, it's easy to pop down to the water and just unplug.
What is your favourite song?
Not sure I have one. My tastes have evolved so much since when I was younger.
Which book taught you most?
The Steve Jobs book is amazing. To see the strict attention to detail he demanded really set the pace for my expectations on work and product.
Do you have a team or sport that you follow?
Los Angeles Lakers. It's for sure been a trying couple years for us, but we'll be back on top soon… hopefully.
Which country would you like to work in?
I'm working here. J
Which company do you think has the best marketing?
This really is a loaded question because there are so many things you can claim as "best". The ones who are seeming to have a great time entertaining are beer brands like Bud Light.
What do you love most about your job?
Every day is an adventure. I don't think I could ever be tied to a desk or routine. Plus, being in marketing I get to meet and work with the most amazing people in the world.
What is your favourite book?
Thug Kitchen Cookbook.
What keeps you awake at night?
Usually our founder Patrick. He never sleeps and loves to wait until 3am to start answering emails.