Human Resources
C-suite career advice: Sheila M. FitzPatrick, NetApp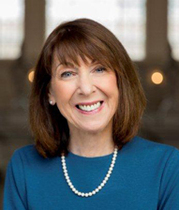 Name: Sheila M. FitzPatrick
Company: NetApp
Job Title: Chief Privacy Officer/Worldwide Data Governance & Privacy Counsel
Location: Sunnyvale, CA USA
What was the most valuable piece of career advice that you received?
Find a job you absolutely love and make it your passion because you will wake up every day excited about the day ahead. If you do this, your job becomes more than just work, it becomes a part of who you are and your passion will become effective and contagious.
What was the worst piece of business advice that you received?
"Stop fighting for what you believe in and just go with the flow". Basically, the message was "don't think outside the box and just go with the status quo", which is the exact mindset that halts progress in its tracks. Never be afraid to voice your opinion or challenge an issue.
What advice would you give to someone starting their career in the tech industry?
Embrace the fast-paced and constantly changing environment you will be working in. Identify and play to your strengths, taking time to get certified in additional disciplines you may not be as strong in, and apply yourself with dedication and professional grace. Learn to work both independently and as part of a team. You must be motivated to solve problems on your own, and able to push yourself and others to work together to solve problems as a team. Don't settle for mediocre, always strive to improve.
It's vital, particularly at the beginning of a career, to get to know the right people. There's nothing wrong with networking, so don't be shy about asking questions. Find a role model or mentor, or if you already know someone with your dream job, it's especially important to talk to them. Meet for coffee and ask them about their career roadmap. Be visible in a positive way by listening, asking relevant questions, volunteering for assignments, producing, and networking.
What tips would you give to someone aiming for a c-level position?
I would say work hard, be a team player, learn as much as you can, don't be afraid to ask questions and challenge answers, listen as much as you speak, be innovative, find your passion, and find a company whose values you can embrace and whose goals you believe in.
But most importantly, remember where you came from and those who helped you along the way. Treat everyone with respect and dignity. Don't become someone you aren't at your very core just because you have reached a higher level in your career. Be the same person at work that you are outside of the office.
Are you particularly proud of any career advice that you've given or the career route/development of anyone you've mentored?
Yes, I have mentored several people throughout my career, but the ones that stand out the most are my nephew's college friends embarking on their new careers. My message always starts with "remember you are no longer in school or working at a part time job, you are starting a career", and that means developing a strong work ethic and a commitment to doing the best possible job you can.
Don't do anything halfheartedly. Take pride in your work and contribute no matter how big or small because every effort counts if you are giving it your all. Don't be afraid to highlight your strengths and acknowledge your weaknesses, but learn from them both. Ask questions because no question is stupid. The more you ask, the more you learn, and the more opportunities you will be given. Be the person your colleagues can count on. Be eager and excited, and willing to give 200%.
I am proud to say that each one of my nephew's friends took my advice and found rewarding careers that they love. They still check in with me for advice or to share exciting news about their jobs. It does make me smile each time I hear from them.