Human Resources
C-suite talk fav tech: Richard Parris, Intercede Group plc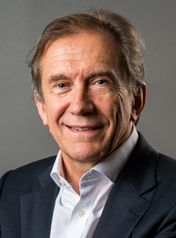 Name: Richard Parris
Job title: Chairman and CEO
Company: Intercede Group plc
Industry: Cybersecurity
Location: London and Washington DC
Years' of experience: 35
What is your favorite personal gadget?
Is my Mercedes AMG too big to be a gadget? It's smart, connected, semi-autonomous and has in-built apps!
Do you have a favorite piece of personal software?
Photos on my iPad. Photos of loved ones always make me smile and makes me realize how blessed we all are.
What was the first piece of technology you got really excited about?
The Texas Instruments SR-51A programmable calculator in 1975. It seemed so advanced at the time and it got me through my BSc at Manchester University.
What device improves your life most at work?
It may seem obvious but my smartphone. It's the jack of all trades – I can catch up on news, emails, check my calendar and receive travel updates on the go.
What software keeps you most productive at work?
Trusty email is still best to enable smooth collaboration within teams across time zones. I live by it.
Is there any technology that has become extinct that you would like to resurrect?
IBM Notes, formerly Lotus Notes. It's still the most secure collaboration platform and was way ahead of its time when it was first launched, using digital certificates for secure access control and audit, as well as workflow customization.
Is there any technology you would personally recommend that you don't think enough people know about? (Hardware or software, work or personal)
The use of digital certificates and biometrics; technologies that replace usernames and passwords are currently underutilized. We all have far too many passwords to remember so more needs to be done by businesses to make these technologies – that provide that extra layer of security – more accessible to the average consumer.
Do you think anything about your personal use of tech would surprise your colleagues?
I don't use Facebook. I don't trust any company that much with my personal data and Facebook's T&Cs are too one-sided for my liking.