Human Resources
The CMO Files: Estelle Reale, Sublime Skinz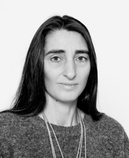 Name: Estelle Reale
Organisation: Sublime Skinz
Job title: Marketing Director EMEA
Location: Paris, France
Where were you born and raised?
I was born and raised in Provence, Southern France.
What was your first job?
My first job was working at Tech Data as a marketing assistant – they are one of the world's largest distributors of technology products. I learned everything about tech products, services, and solutions by working directly with companies such as HP, Microsoft, and Apple.
What was the first product you got really excited about?
My first iPhone.
Who has been the biggest influence on your career?
Nicolle Pangis, Global COO, [m]platform, GroupM, who was named last year as one of the most powerful woman in mobile advertising. The way she is able to balance her personal and professional life is amazing.
What has been your greatest achievement?
I will leave the obvious answer of my kids aside. More recently, being able to develop several markets at the same time.
What has been your biggest mistake?
Not being able to recognise one of the most influential guys in the programmatic ad industry who approached me at a conference for a chat.
What is your greatest strength?
Enthusiasm.
What is your biggest weakness?
Chocolate!
What do you think is the aspect of your role most neglected by peers?
Pragmatism. In marketing, people think it is all about strategy and driven actions, but pragmatism is also really important.
Which word or phrase is your mantra and which word or phrase makes you squirm?
My favourite phrase is 'Tomorrow is another day'. It is always good to remember there is always another day to get it right when the day isn't working out.
What makes you stressed?
When you are really busy and suddenly realise that a day is only 24 hours long…!
What do you do to relax?
Vinyasa Yoga.
What is your favourite song?
Prayer in C by Lilly Wood & the Prick. When I listen to it I start to dance.
Which book taught you most?
George Orwell's 1984. I recently read it again – it was good to revisit given global political threats.
Do you have a team or sport that you follow?
My son plays badminton, so I would say I follow that.
Which country would you like to work in?
Spain for the sun, and also because in digital marketing they know how to combine creativity with technology.
Which company do you think has the best marketing?
Aesop (skin, hair, and body products as well as fragrance) because it is a product- focused company, regularly launching new products. Also because each of their stores are unique so they propose a different experience to their clients, via their products.
What do you love most about your job?
Overseeing global projects and working in a multicultural environment.
What is your favourite book?
The World According to Garp by John Irving.
What keeps you awake at night?
Jet lag!