Human Resources
Typical 24: Bob Farrell, Kewill
IDG Connect is looking to speak to IT, business and marketing professionals across the spectrum to discover more about their very different, typical working days…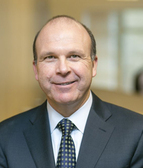 Name: Bob Farrell
Job title: President and CEO
Company: Kewill
Location: Chelmsford, MA
Years' experience: More than 25 years
1. What time do you reach the office each day?
Most days I'm not in the office; 75% of the time I'm on the road traveling and engaging with customers. I start my workday around 6 a.m. with some sort of exercise and running.
2. Is your job varied?
My job is very diverse. During the course of the day, I'll shift from sales to operations, which makes things interesting. I'm very customer-focused.
3. Is your job creative?
In its own way, my job does require quite a bit of creativity, but just not in the traditional sense. We've worked to build a collaborative environment and creativity stems from discussing interesting topics and innovative ideas to come up with new opportunities to develop our employees and solve customer challenges.
4. What do you spend the majority of your time doing?
A lot of my time is spent looking at ways that we can bring value to our customers by learning more about their businesses and industry. It takes a lot of work to make sure we have the right people to support customer goals.
5. Do you personalise your desk?
My desk is personalized with family photos and various mementos from different occasions, including a bowling pin and school projects from my kids. My son decorated a rock for Father's Day that reads, "You Rock Dad." He's 18 years old now!
6. Would you describe yourself as creative?
I'm a "get it done" person. I like to foster creativity when it comes to time management.
7. Do you have any quirky daily rituals?
I'm pretty regimented, so I like to start my day in a well-organized manner. Even though I've got all the latest technology, I find an old-school tradition of using an index card to write down the top 10 things that I need to accomplish that day works best for me.
8. Do you tend to work on your own or with colleagues?
I work alone and with my co-workers. It's very important to have a balance between spending time on your own projects and with colleagues.
9. How many hours on average do you work in a day?
I've integrated both my personal and business life together, so it really varies every day.
10. Roughly how much time do you spend each day on email? Calls? Meetings?
I don't usually measure email from a time perspective, but if I were to estimate calls and meetings each day, I would say roughly eight hours which includes business as well as personal.
11. Do you use social media much for work?
I use LinkedIn to connect with customers and track news in the industry.
12. What do you enjoy most about your work?
What I enjoy most about my job is the personal interactions with our customers. My team and I are thrilled when we can deliver solutions to enhance their businesses and see them succeed.
13. What type of music (if any) do you listen to at work?
I like a lot of different music, and depending on the mood, anything from contemporary to classic rock. I love Boston's "More Than a Feeling," especially when going for a run.
14. What do you do for lunch?
Unless I have a scheduled lunch with a customer, I'll try to have lunch with other employees in the office I'm visiting.
15. Do you socialise with work colleagues?
Yes. I like to treat employees to lunch or dinner, and I encourage our management team to do that as well when visiting other offices.
16. Are there any tasks (through your career) you've been especially glad to get rid of?
One daily task I'm particularly glad to get rid of is a long commute each day.
17. What is your last task of your day?
I'll do a quick email check to see if anything urgent has popped up before lights out.
18. How do you like to relax after work?
I love to catch up with my family and hear what they're up to over dinner. I also like to read when traveling or at home.
19. Do you keep checking email through the evening?
Yes, but not in a compulsive kind of way. If I am expecting an email, then yes, I will monitor for it.
20. Do you take work projects home with you?
Since I work at home when I'm not on the road engaging with customers or visiting one of our offices, I always have projects active while at home.
21. What would you say to your 20-year old self?
I would tell the 20-year-old-me to get a haircut! I think a 20 year old person thinks they know everything, but they really don't know what they don't know. I would tell myself that.
22. If you could try out any job for a day, what would you choose?
The President of the United States.
23. What device did you use to answer these questions?
My mobile phone.
24. Do you use your own personal device for work?
I use all my devices for work and personal needs – it's all integrated.