Human Resources
Typical 24: Jamie Anderson, Global Vice President, Product Marketing, Customer Engagement Solutions, SAP
IDG Connect is looking to speak to IT, business and marketing professionals across the spectrum to discover more about their very different, typical working days…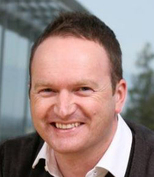 Name: Jamie Anderson
Job title: Global Vice President, Product Marketing, Customer Engagement Solutions
Company: SAP
Location: Edinburgh, Scotland
Years' experience: 18
1. What time do you reach the office each day?
I reach the office each morning between 7 and 7:30 a.m. This allows me to speak with my compadres who are located in Singapore and Asia Pacific.
2. Is your job varied?
I consider my job extremely varied, largely because customer engagement today touches almost every part of business. I always say it's a uniquely uniform topic as everyone – regardless of industry or title – usually has a passionate opinion on what makes a great customer experience which oftentimes stems from personal experience.
3. Is your job creative?
It's very creative. The most difficult thing to be creative with, though, is time!
4. What do you spend the majority of your time doing?
The majority of my time is spent in a variety of ways. Travelling/working in the field is a big part of my role as are content development, writing keynotes and responding to inquiries. I'm constantly moving, but that's okay – it suits not only my personality, but my work style.
5. Do you personalise your desk?
Yes. I work from an office/studio while at home so I'm surrounded by my guitars, keyboards, concert stubs, football memorabilia and more. My favourite, though, might be the drawings made for me by my children.
6. Would you describe yourself as creative?
Yes, I definitely would. It's probably my strongest trait. One of the things I hear so often in business is the complaint that someone had their idea stolen by a colleague or competitor. That's not me. I give away at least one new idea every day because I know tomorrow I will have another.
7. Do you have any quirky daily rituals?
I have a cup of coffee at 2 p.m. every single day. Also, when I'm home, I wake at dawn for a bit of running in the Scottish Hills.
8. Do you tend to work on your own or with colleagues?
I work alone the majority of the time, but I'm a very social person and technology helps me work virtually with colleagues every day. During those moments we connect, we brainstorm, work out solutions to problems and deal with the issues that arise. I'm very fortunate to work with a great team of people who truly have their finger on the pulse of the industry.
9. How many hours on average do you work a day?
On average I work between ten and 12 hours per day. However, I'm very protective of the time I spend with my family in the evening. My colleagues know there is a two hour block – from about 6:30 – 8:30 p.m. – where I won't take phone calls as I'm spending time with my family.
10. Roughly how much time do you spend each day on email? Taking calls? In meetings?
I tackle most of my email in the morning which takes up about 30% of my day. Most calls/meetings are handled in the afternoon and take up about 50% of my working day. The last 20% is dedicated to travel and meeting customers.
11. Do you use social media much for work?
I do. It allows me to brainstorm, develop solutions and tackle the issues of the day with my team who are stationed around the globe.
12. What do you enjoy most about your work?
What I enjoy most is the flash of inspiration that comes with developing an ad campaign. When an image pops into your head and captures the story you and your team are trying to tell in a compelling way – it's a phenomenal feeling. It's even more exhilarating when you see it translated to print or video. The process is very similar to writing a song – eventually, everything crystalizes and the final product couldn't be more exciting.
13. What type of music (if any) do you listen to at work?
If I'm feeling disruptive or anticipating an upcoming meeting or situation that requires that particular style, then I'll put queue up Foo Fighters, Oasis or Blur. If I'm looking to relax or get some creative juices flowing, then I'll listen to the Beach Boys "Smile" sessions.
14. What do you do for lunch?
Truthfully, I'm not a big "lunch person," but if I can choose, I tend to go with either sushi or a small steak. If it is indeed steak, it's without potatoes or chips. I take it only with green vegetables.
15. Do you socialise with work colleagues?
Because we are dispersed across the globe, I don't socialize with my colleagues as much as I would like. Our team is truly like a band of brothers and sisters and I consider myself lucky to be able to work with each and every one of them.
16. Are there any tasks (through your career) you've been especially glad to get rid of?
Not particularly. Somewhat related, I will say there are definitely some exercises you find yourself questioning the value of, but I've learned that when you work for a large organization, there are some things you must do in order to drive results.
17. What is your last task of your day?
My last task of the day is to make sure I have no unanswered emails. At all costs, I try to avoid waking up in the morning to an inbox full of items from the previous day.
18. How do you like to relax after work?
After work, I enjoy drinking wine, however, you could really add beer, rum, vodka and gin to the list as well! I also like to write and play music.
19. Do you keep checking email through the evening?
To my detriment, yes, however I honestly try not to and I don't think anyone should.
20. Do you take work projects home with you?
Yes, but they are nowhere near as difficult as my son's elementary school projects. Who asks a 5-year-old to build a full-scale model of a city? Can you imagine?
21. What would you say to your 20-year old self?
I would probably tell him to be a bit more confident! At that age, I was living my dream as a musician with a recording contract, but I definitely had the "songwriter's curse," meaning I was the frontman of the group, outwardly confident and always in the thick of the action. But, internally? That was a different story. If I could talk to that guy today, I'd tell him to relax and that the cute girl he was just chatting up probably does like him.
22. If you could try out any job for a day, what would you choose?
This one is easy. I would be a professional soccer player. Ha, when I watch it on the telly it sure does look easy!
23. What device did you use to answer these questions?
I wish I could say I answered these questions from the new Sony Xperia Z2 Tablet, but alas, I'm an absolute sheep and used my iPhone 5s.
24. Do you use your own personal device for work?
Yes, I use them all the time. In addition to my iPhone 5s, I often use my iPad Air. For the purpose of trying to gain some street cred, though, I do want to mention that I just bought a pair of Nexus 7s for my two children. It's a terrific device and very sleek. I think Android is a great operating system.