Wireless Technologies
Commercial drone flights: Poor rules, NASA, & the future
For now they may be exciting Christmas presents or the military's latest tactic in warfare, but the commercial use of drones is predicted to be a massive industry in the future.
The Association for Unmanned Systems International (AUVSI) expects the commercial drone industry – once it is fully integrated with national airspace and regulated – could be worth over $80 billion over the next 10 years and employ 100,000 people.
It is the "once fully integrated" caveat that is the sticking point. You want to fly a drone for commercial purposes today? You have to apply for special exemption (Section 333 exemption) from the Federal Aviation Authority (FAA).
This case-by-case process can take up to 120 days and, since the start of the year, the number of applications granted each month has soared from single figures to in the hundreds. Over 1,000 companies have exemption to fly drones for commercial purposes for everything from photography and agriculture, to search and rescue, and construction.
The FAA recently missed a deadline set by Congress in 2012 for establishing a set of rules that integrates Unmanned Ariel Vehicles (UAVs) into national airspace, but it still takes enforcement of the current rules seriously. Ariel photography firm SkyPan was recently subject to a $1.9 million fine over 65 unauthorised flights over Chicago and New York City. In a statement the FAA claimed; "These operations were illegal and not without risk."
The FAA proposed a set of rules in February – yet to be implemented – that would require all UAVs to be flown below 500ft, never above people (e.g. sports events) and remain in line of sight. In addition, new rules set to be introduced will create a registry of all drones and pilots.
"The FAA has made a lot of strides in fostering innovation in the unmanned aerial vehicle space," says Lia Reich, Senior Communications Director at PrecisionHawk. Precision Hawk is a US-based "aerial data analytics" firm that provides aerial surveying and other services to a variety of industries. The exemption process in the US is a good process today, but it does take time. The proposed rules will create a lot of value by unlocking that opportunity for more people to begin flying and collecting the data that they need to meet their business use cases.
Can the rules be enforced?
There's nothing to stop drones flying where they shouldn't; something that is causing airports and national monuments headaches. The drone that landed on the lawn of the White House earlier this year caused a storm, and aside from actually shooting them out of the sky with shotguns or radiowave disruption rifles, there's little you can do to stop these machines going where they shouldn't.
Solutions from the industry – for example LATAS and Altitude Angel exist, but without widespread adoption, it's just a piecemeal attempt at fixing a problem that will only grow larger over time.
The rules and the infrastructure for commercial drone use currently doesn't exist. The AUVSI report warns that for every year that integration is delayed, it will cost the United States more than $10 billion in potential economic impact. There's no shortage of ambition within the community to embrace drones commercially; Amazon shipped testing off to Canada to speed up its commercial delivery efforts, North Dakota will soon be the home of a full-blown commercial drone airport.
When asked about the state of drone regulation in the US, a spokesperson for DroneSheild said: "Most countries outside the US have more attractive rules and it is a shame that the birthplace of aviation, the United States, is behind the rest of the world in drones due to the slowness of the FAA." Droneshield provides drone detection solutions for security services such as prisons, airports etc. "But, except for the FAA, we believe the government is supporting the industry appropriately."
What about NASA?
The drones industry is currently caught in an endless cycle: the commercial industry won't take up until operators are allowed to fly beyond line of sight (BLOS), and that won't be achieved until the FAA installs new regulations, and the FAA is unlikely to introduce new regulations until there is infrastructure and systems in place to manage commercial drone flights. Solution? Enter NASA.
The catalyst for introducing Air Traffic Control for National Airspace within the US was two planes colliding over the Grand Canyon in 1956. Dr. Parimal H. Kopardekar, Principal Investigator, Unmanned Aerial Systems Traffic Management (UTM) for NASA (known as PK), is trying to introduce a similar system for drones.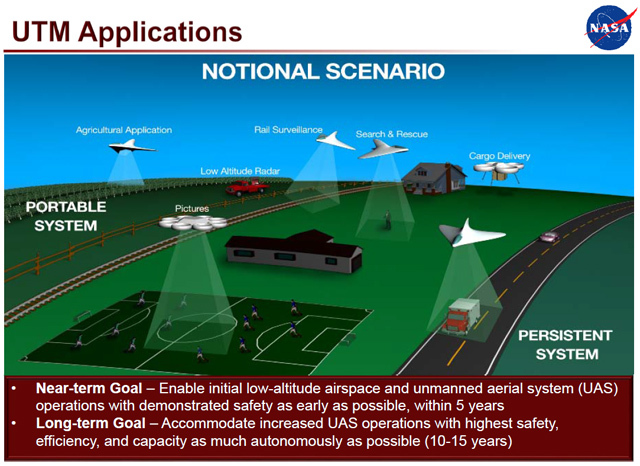 "There are a lot of applications that people have been investigating, such as agriculture, pipeline monitoring, electric wire monitoring, search and rescue, delivery, public safety, disaster relief, news gathering," he explains. "And what will happen eventually is all these vehicles will want to operate in the airspace together with differing missions, differing vehicle characteristics, which will require a system to manage them."
The do-what-you-want model of drone flights "will not scale" when you have thousands of unmanned vehicles in the sky. "You can consider UTM as a digital virtual flexible infrastructure in this low-altitude airspace."
"Regardless of whether we have autonomous/self-driving cars, we still need the rules of the road, we need stop signs, we need lights and highways and bike lanes and such," he says. "If we are not ahead of the game, we will repeat history." UTM has three goals: ensure security and safe airspace integration, and help create a scalable operation for economic growth. In short: helping the drone economy while keeping people, buildings and other aircraft safe.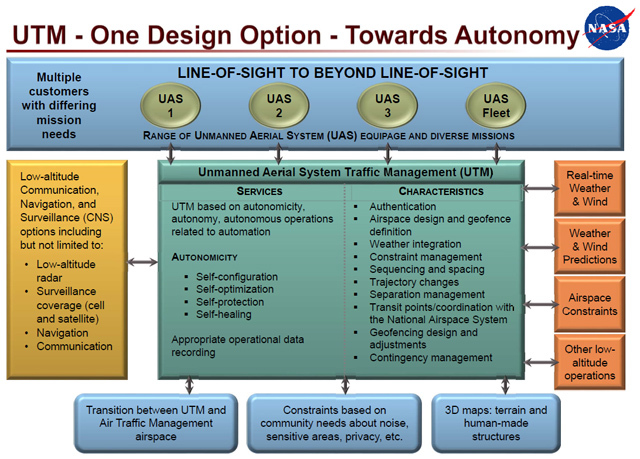 The cloud-based system would allow pilots to fly drones at a low altitude (for example around 500ft) "with some constructs of the rules"- bringing together information from distributed sources like weather information (current and predictive), geo-fencing (flight zone restrictions – e.g., for static infrastructure for buildings, airports or more real-time examples such as emergency services incidents), other flight plans (both UAV and manned), and more. "It's an ecosystem that allows you to safely operate at a low altitude airspace."
The system could theoretically be used by a single operator to ensure a safe flight plan or by an operator of a whole – and potentially automated - fleet of UAVs. Part of PK's plan involves various deployment models depending on where the drones are being flown. Operations could be mobile or static, use GPS or satellite – depending on whether drones are being flown in densely populated urban areas or near infrastructure such as airports, or out in more remote regions.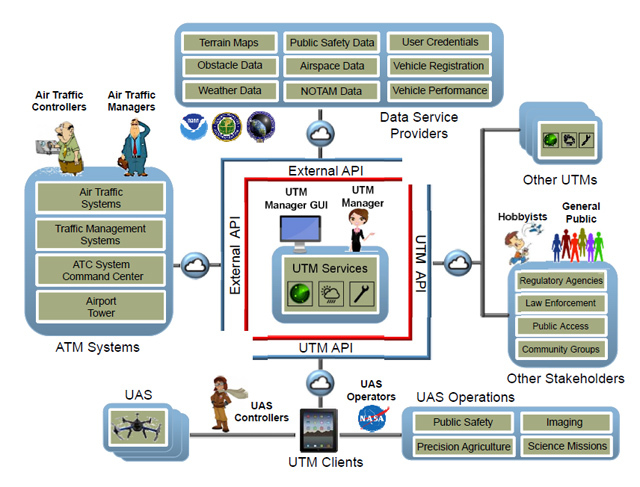 How to enable an industry?
PK is keen to highlight this is a potential solution for law-abiding businesses, and not designed to deal with troublemakers. "The system will not take over any drone, that's not the intent of it. It's a management system, not a control system."
"I don't think that's the right way to do it, taking control. Taking over for law and order, is a totally different issue," he says. "For the rogue operators near key assets like 10 Downing Street or the White House, you may have to have a separate surveillance system that would track and catch the non-cooperative targets.
"We only do prototypes, so NASA is not in the business of operating this, neither are we going to have a commercial product, NASA's not going to sell it." Wishing not to speculate, the final decisions over how, if and when the UTM system will be deployed is up to the FAA. "We look at this as a research project, not necessarily implementation-ready stuff. But we have a huge support, collaboration and interest from everyone to see how this experiment runs."
Currently in "Build 2" testing phase and trialling testing BLOS flight, the project also has approval from the industry; over 100 parties registered an interest in working with NASA on this, 11 partners were involved in "Build 1" testing.
When asked about regulations, PK is wary to get involved. "That's a question best answered by the commercial entities. I think they would say they would benefit from a rule or regulating or guidance on how they can operate Beyond Visual Line of Sight."
"The rules are there because there is no system to support them. We need to demonstrate that, with some system, operations and protocol, we can go safely beyond visual line of sight. The onus is on research houses like NASA to demonstrate this, to show that this really works and maintains safety."
Does Amazon moving testing to Canada show there's tension between industry and government though? "I don't know if I would say that. I can only speak for what we at NASA are doing, but there isn't any tension with anybody else."
"I would put it in a more positive way that there is pretty good growing awareness of regulatory needs as to what the business needs and the potential for drones to make a positive impact. Our goal is to enable an entire industry."