Human Resources
Typical 24: Ian Collard, Identity Methods ltd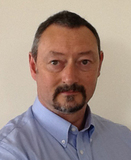 Name: Ian Collard
Job title: CEO
Company: Identity Methods ltd
Location: Brighton, UK
Years' experience: 30 plus
1. What time do you reach the office each day?
If I don't have an appointment, I try to be at my desk between 7-7:30am. I look at email and plan my priorities.
2. Is your job varied?
Yes, I have a technical, consulting and sales background and so I can vary my workload between them all.
3. Is your job creative?
In as much as we create new products and introduce new technology to markets.
4. What do you spend the majority of your time doing?
Sales and Marketing
5. Do you personalise your desk?
Not particularly, I try to keep a clear desk which comes from my security background.
6. Would you describe yourself as creative?
I suppose so, I have a Director/ Creator personality profile and enjoy the challenge of making new things happen.
7. Do you have any quirky daily rituals?
I always look at the soccer gossip and the news before I start work but that's not particularly quirky.
8. Do you tend to work on your own or with colleagues?
It's about even between the two. It depends on the task at hand.
9. How many hours on average do you work a day?
10-12 hours a day.
10. Roughly how much time do you spend each day on email? Taking calls? In meetings?
I try to restrict email to first thing in the morning, lunchtime and at the end of the day, unless it's a priority dialogue. Other than that, I spend a lot of time on the phone, on conference calls and web conferences. I try to meet my customers, suppliers and colleagues regularly. It's important for all concerned that the leadership of a business supports the front line any way and all ways.
11. Do you use social media much for work?
To a limited amount but more recently we have engaged a PR agency and they are helping to shape our approach to the use of social media in our marketing effort.
12. What do you enjoy most about your work?
I love to seal a deal with a client. There's no buzz quite like closing out a piece of business.
13. What type of music (if any) do you listen to at work?
If I work at home I often listen to BBC Radio 6 Music and if I need to get my head down and deliver documents etc. I often put my iPod on and listen to an eclectic mix of all types of music from early choral music through to Snoop Dog. I like to put it on random so I am constantly surprised by what's playing.
14. What do you do for lunch?
It depends where I am and how much time I have. It can be a sandwich at my desk or a full on business lunch.
15. Do you socialise with work colleagues?
Yes, I like to socialise with colleagues, it brings everyone together and helps to break down barriers.
16. Are there any tasks (through your career) you've been especially glad to get rid of?
Running a SME business I'm not sure that I ever have!!!
17. What is your last task of your day?
Check my to do list and make sure I haven't missed any important and urgent tasks have been completed and that I have nothing outstanding that might bite my ass.
18. How do you like to relax after work?
I play guitar, I like to cook, especially Greek and Italian food.
19. Do you keep checking email through the evening?
I only check if I really need to. I try to leave it until I start in the morning
20. Do you take work projects home with you?
Yes, I often work at home, so it's pretty usual for me to extend my working day by starting early at home and finishing in the mid evening.
21. What would you say to your 20-year old self?
"Pull your finger out , you lazy so and so."
22. If you could try out any job for a day, what would you choose?
I'd like to be Tony Visconti for a day and produce a record in a studio.
23. What device did you use to answer these questions?
My iPad
24. Do you use your own personal device for work?
All the time, my smartphone and iPad have everything I need to survive. My telephone, CRM and productivity tools.