Human Resources
Typical 24: Stephanie Himoff, Outbrain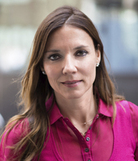 Name: Stephanie Himoff
Job title: Managing Director UK & Ireland
Company: Outbrain
Location: London, United Kingdom
Years' experience: 20+
1. What time do you reach the office each day?
Between 8:30 am and 9:00 am
2. Is your job varied?
It is really varied, as you'd expect when running a high growth business in a fast pace environment.
3. Is your job creative?
Creativity is required when juggling different tasks and challenges.
4. What do you spend the majority of your time doing?
Talking to our partners, understanding what we do well, what we do not do too well.
5. Do you personalise your desk?
We have an open floor with banks of 8 desks. We all sit really close to each other and do not have huge amount of space. My personalisation is my SAD light. I suffer badly from the lack of sunshine so I compensate by having my SAD light on for a few hours during the winter.
6. Would you describe yourself as creative?
Not creative in the sense of producing artwork or any crafts, but creative in multi-tasking: finding solutions to problems.
7. Do you have any quirky daily rituals?
Not really, other than turning my SAD light on.
8. Do you tend to work on your own or with colleagues?
With colleagues, 100%. I sit in the middle of the action!
9. How many hours on average do you work a day?
About 10 hours on average, but often longer as we regularly have functions in the evening.
10. Roughly how much time do you spend each day on email? Taking calls? In meetings?
A few hours on emails, a few hours in meetings internally and the rest with clients.
11. Do you use social media much for work?
Our marketing team does. Social media is for connecting with my friends and for keeping up with my 12-year daughter. She taught me all the cool things on Snapchat.
12. What do you enjoy most about your work?
Winning deals!
13. What type of music (if any) do you listen to at work?
I have Spotify and depending on my mood or work, I'll adapt my music ranging anywhere from Lenny Kravitz to Mozart (when working on spreadsheet and forecast, music works better).
14. What do you do for lunch?
Either I am out with customers or at my desk with a salad!
15. Do you socialise with work colleagues?
Yes but customers are involved!
16. Are there any tasks (through your career) you've been especially glad to get rid of?
Booking airfares and restaurants. I always get it wrong. I am the worst admin person.
17. What is your last task of your day?
Going through my to-do list for the next day.
18. How do you like to relax after work?
A nice glass of chilled rosé and a good laugh with friends.
19. Do you keep checking email through the evening?
Yes, I am guilty of this!
20. Do you take work projects home with you?
Yes, I have another work laptop at home which synchronises with my laptop at work.
21. What would you say to your 20-year old self?
Don't ever give up. Put yourself forward for any opportunity. Do not fear failure, and keep on trying.
22. If you could try out any job for a day, what would you choose?
I'd like to be an interior decorator.
23. What device did you use to answer these questions?
My Apple laptop
24. Do you use your own personal device for work?
My phone, which follows me everywhere.