Human Resources
Typical 24: Michael Gould, Anaplan
IDG Connect is looking to speak to IT, business and marketing professionals across the spectrum to discover more about their very different, typical working days…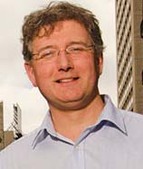 Name: Michael Gould
Job title: CTO
Company: Anaplan
Location: York, UK
Years' experience: Over 25 years in Design and Architecture, including 8 years as the Founder and CTO of Anaplan
1. What time do you reach the office each day?
I arrive at the office between roughly 9:30 and 10am – that's not to say I enjoy a relaxing morning though! I'll be checking emails at home from around 6am, dealing with anything urgent and just catching the end of the San Francisco evening (where a lot of my colleagues are based).
I'll also help out with the children; it's nice to spend time with family each morning – even if it's just to get the kids out of bed!
2. Is your job varied?
Yes - very varied. My role has changed significantly since I founded Anaplan back in 2006. For the first couple of years it was just me, sitting in a barn outside of York and writing code for the core platform engine. Since then the team has quickly expanded around the globe – I've spent time working to get the product ready for market, then leading the development team. Nowadays my focus is on the product strategy and core platform. There's not as much time spent getting my hands dirty with code.
3. Is your job creative?
Having built the product from scratch I'd certainly like to think so. At Anaplan we want to be at the forefront of the latest technology and business processes; creativity is a core part of this. From writing the initial code, through to directing a group of people and looking to solve specific industry issues for companies – we try to take a creative approach in responding to the needs of our customers. In my mind, solving any business problem requires a degree of creativity – after all, if you didn't have to think outside the box to find an answer, then there simply wouldn't be a problem in the first place.
4. What do you spend the majority of your time doing?
Mainly in discussions, whether that's talking through detailed design meetings with developers and product managers, having technical discussions on scalability, or making direct calls to customers and business leaders – my calendar seems to be filled with conversations!
5. Do you personalise your desk?
To be honest, I don't really have a desk. I'm constantly on the move, jumping from meeting to meeting, call to call so I prefer to carry everything with me. My role also includes a lot of travel; I make a trip to the US once a month. Having my own desk would be nice but, at the moment, it's just not necessary.
6. Would you describe yourself as creative?
Yes – I've enjoyed building the product from scratch. I'll freely admit that my strength doesn't lie in the visual design; I like to think that my creativity is evident in the core design of the product.
7. Do you have any quirky daily rituals?
When I wake up in the morning I make two mugs of tea for my wife and two for myself. The rationale originally came from having four children very close together – we literally couldn't get back to the kitchen! Those children are teenagers now, but we also have three young, adopted children so our tea ritual is still very much in force.
8. Do you tend to work on your own or with colleagues?
My work is very social and I'm generally collaborating with colleagues all day, every day. I do get some (very) small pockets of time to myself, mainly for reviewing work.
9. How many hours on average do you work a day?
It probably works out at around 10 to 12 – nearer 12 on most days.
10. Roughly how much time do you spend each day on email? Taking calls? In meetings?
Overall I have around an hour or two of emails, though these are split throughout the day. Since emerging from my barn, Anaplan has always been international – split across North America, Europe, the Far East and New Zealand - so for me, calls and meetings fall into the same category. It's a big category, taking up around eight hours of my day.
11. Do you use social media much for work?
Not enough. I have LinkedIn, mainly for recruiting, and I'm on Twitter.
12. What do you enjoy most about your work?
For me the biggest highlight is hearing from happy customers. When I listen to a customer talking enthusiastically about how our platform transformed their business processes, I feel very satisfied. Often it's a case of streamlining a long, time-consuming process, so we often get a lot of gratitude from customers.
A close second is the people I work with. I'm really proud of the team we've built up over the years – collaborating with them each day is a pleasure.
13. What type of music (if any) do you listen to at work?
I never listen to music while working – I'd get far too distracted. Outside of work I like classical music and opera. I also spend time relaxing by playing classical guitar.
14. What do you do for lunch?
Normally, I just grab a sandwich and carry on working. I'd love to sit down and enjoy a meal but my day is just too busy.
15. Do you socialise with work colleagues?
Being an international company we often take our overseas colleagues out. We're now based in the centre of York, it's a beautiful city and our colleagues from the US love looking around the little cobbled streets.
16. Are there any tasks (through your career) you've been especially glad to get rid of?
In the early days I had to take on all the accounting – everything from payroll to payments and expenses. Now we have a dedicated accounting team and, blissfully, I've been able to offload those jobs.
17. What is your last task of your day?
Checking my email for any final tasks – and it's generally just before bed.
18. How do you like to relax after work?
'After work' is a tricky definition! I get home at around 6pm to help put the children to bed but generally keep working afterwards – taking calls with San Francisco and answering emails. Normally I work until 11:30pm. I try to keep a couple of evenings free from regularly scheduled meetings so I can have a little time. In terms of relaxation – walking our dogs helps a lot.
19. Do you keep checking email through the evening?
Yes, always. We work in an international team so needs must.
20. Do you take work projects home with you?
As I've said, work and home life are very much intertwined. I do make a real effort to keep the weekends clear so I can spend time with my family though.
21. What would you say to your 20-year old self?
It seems odd to look back and wish I'd done more work but I really feel I'd have enjoyed university life more if I'd been a little more structured about how I worked. I'd tell my 20 year old self to use university to prepare for working life and be more disciplined in how I spent time studying.
22. If you could try out any job for a day, what would you choose?
I'd love to be an opera singer for the day. I enjoy the opera though don't get to see it as much as I'd like. I enjoy singing, though not to a standard that anyone would want to hear!
23. What device did you use to answer these questions?
I used a Windows laptop and iPhone – my usual tools of the office.
24. Do you use your own personal device for work?
Yes, the iPhone is mine – mainly just for checking emails. At Anaplan our execs and senior management team all use their own devices; we like to retain the same agility we had as a start-up.