Open Source
Q.bo One is the Open Source AI Robot on IndieGoGo
Crowdfunding sites are offering a new path for inventors with original ideas. We talk to inventors looking to gain the public's favour...
Name: See Tho Yong Yang
Job title: Business Development Manager
Organisation: Thecorpora S.L.
Location: Barcelona, Spain
Product: Q.bo One – Interactive Robot Assistant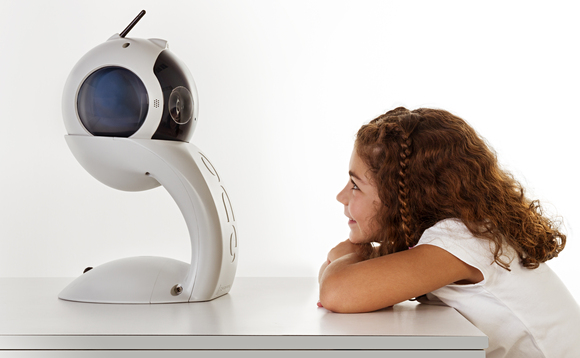 What it does & how it works:
Essentially Q.bo One is a conduit for Artificial Intelligence (AI) systems to deliver interactive applications that works with people. Q.bo One enables ambient awareness that creates an intimacy which fosters empathy, encouraging communication between people and machines. With effective communications, the AI application can deliver its intended services.
For example, Q.bo One can be programmed with a conversational application to help people record a digital diary. This diary is then translated to text with the help of a Speech to Text Constructor Application. The user can refine the text before saving the record in private cloud or SD Card. One year later, if the user wants to know what happened on the same date a year ago, Q.bo One can retrieve the record to recall in a story like way with a story telling application.
With this system, you will never feel that you have lost a day in your life and Q.bo One can be your constant companion that remembers all your life events with you on any day and every day.
What makes it special:
Q.bo One is built to be open sourced and affordable. In this way, we can make it affordable to as many people as possible and because it is open sourced, many different applications can be built to run on Q.bo One. Therefore, Q.bo One users can look forward to an exponential growth in applications as the community grows around it.
What's your background, and what inspired you to come up with the idea?
Our Founder, Francisco Javier Paz, has been working with Interactive Robots for many years. The company Thecorpora has been around for almost 10 years and we wanted to make robots accessible to as many people as possible. Over the time span of 20 years, Javier has seen that there were only a few projects that are still functioning, mainly due to the high costs involved in prototyping, research and development in this interesting but highly complex field. Understanding this trend, Thecorpora developed an affordable platform for robotic research. This is where our first product, Q.bo was born.
Taking the feedback and experience we adopted from our first product, we decided to develop a lower cost version as we noted that there are in tandem, rapid developments in Artificial Intelligence from big and small companies alike. We wanted Q.bo One to be an effective conduit to these systems so that they can have a persona with Q.bo One as they conduct their interaction with people.
Why did you choose to use Indiegogo?
Indiegogo is one of the top crowdfunding platform in the world and we have obtained a lot of support through Indiegogo programs, which is beneficial not just for our campaign but for our business too! We got to know incredibly helpful and generous people from Arrow Electronics and IBM and we are working with them to advance our common interest. As a small and fledging company, we could not ask for more!
Is Crowdfunding good for innovation? How so?
Definitely. Crowdfunding is the best platform to validate your idea and find your first customers. We believe there are hardly any other platform that can do that as effectively due to its reach and coverage. Of course, it will be good to implement some form of protection for your intellectual property before you go for crowdfunding.
Reactions from people on IGG so far?
We have learnt a lot from people on IGG. Our backers give us good feedback and help us understand perspectives on what makes the market tick and what doesn't. We are comforted that there are many people who are interested in product like ours. We are sure that our product will be adopted widely as more applications become available.
What have you learned from your campaign?
It is very important to have effective messaging and communications during the campaign. Whether it is in our reply to our backers or the campaign pitch, it is important to be clear, concise and honest about our statement. We need to send important points across clearly so that backers and potential backers understands what is the benefit and rationale for backing the campaign.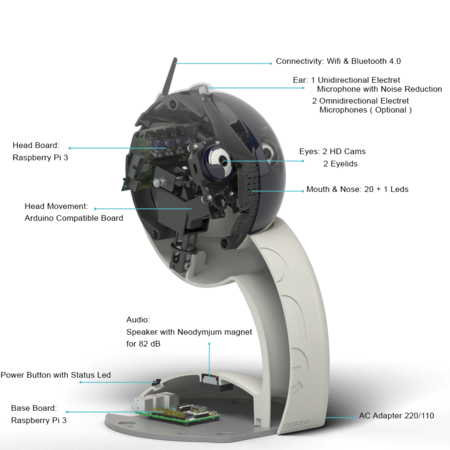 The Q.Bo can be programmed with Scratch; are you aiming to help children better understand how robots work and how to interact with them, or hoping to encourage more children get into programming and AI?
Both. It is very important to cultivate the curiosity of children at a young age and stretch their imagination so that they can have a creative and inquisitive mind growing up. It is also important for them to learn robotics and programming as these skill set will be highly relevant for the jobs of tomorrow. Children need to know that science and technology is not a black box that is mysterious and unapproachable but something to be explored and mastered. Q.bo One is the perfect platform to start learning all the skills that will be relevant for the future.
What kind of use cases do you foresee for the Q.Bo?
There are boundless possibilities for Q.bo One. The limit is our imagination. We can foresee Q.bo One as a companion tool for all ages and people. We can also see Q.bo One used in a number of commercial applications including robotic concierge, medical assistant as well as work desk assistant. All these applications are possible and realistic for a device like Q.bo One.
Are you planning on introducing your own Alexa-like AI into Q.Bo or future robots?
No, not at the moment unless there is a need that cannot be addressed by existing systems in the market. Our primary objective is to make the best conduit possible for such systems to deliver their AI applications and help such systems to be more effective with our product.
Possible business use/advantage?
Our product is consistent and works as advertised. It is also affordable so that it can be easily adopted. Some possible applications include front line service robots in banks, hotels, buildings and shopping centres. It can also be used in medical or academic environment to help patients and students alike.
Aims for the future?
We want to keep innovating and listen to the market so that we can keep introducing better products to the market. Some ideas may include adding mobility capability or arms to Q.bo in its future iteration. Our aim has always been first and foremost in giving the market a useful product that will help and bring a positive impact to people's lives.