Human Resources
The CMO Files: Jason Hemingway, Thunderhead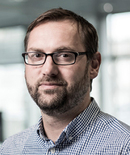 Name: Jason Hemingway
Organisation: Thunderhead
Job title: CMO
Location: London, UK
Where were you born and raised?
I was born in Bellshill, Glasgow. Raised in Guildford.
What was your first job?
My first job was as a paperboy when I was at school, but my first proper job after university was at Dow Jones News. I worked on some bruising trading room floors configuring news screens for traders in various banks…very character-building…
What was the first product you got really excited about?
Showing my age here but Commodore 64, it had a floppy disk drive. I've seen the same computers in museums, which amuses my kids.
Who has been the biggest influence on your career?
Jeremy Jackson, now a very good friend of mine. Formerly my boss, and mentor, he believed in me and made me Director of Marketing. He developed my mind-set to be much more analytical and strategic, enabling me to drive business value. He encouraged me to complete a professional qualification (CIM). And I do love him.
What has been your greatest achievement?
I was included in the Hot Topics '100 most influential B2B marketing leaders in Europe'. I'm proud of it because it's a pretty exclusive list.
What has been your biggest mistake?
Wearing a suit to work for so long, it wasn't me and I didn't feel comfortable. I'm a firm believer in staying true to yourself, even at work.
What is your greatest strength?
My greatest strength is seeing the bigger picture.
What is your biggest weakness?
I can get tied up in the detail and in getting things exactly right, but at some point you have to let go. I try to overcome it but it's a continuous battle!
What do you think is the aspect of your role most neglected by peers?
I think long-term customer value is hugely overlooked. Brands focus on quick wins, discounts, offers and gimmicks that improve things momentarily with your customer and briefly puts you in good favour. Actually, those playing the long game, improving the customer journey and delivering a customer engagement strategy will reap the benefits.
Which word or phrase is your mantra and which word or phrase makes you squirm?
My mantra is two-fold, break all the rules and never be boring. I squirm at 'reach out', meaning 'to contact'? You're not reaching anywhere!
What makes you stressed?
When things take too long, I always need things quicker.
What do you do to relax?
A pint in the Blue Posts.
What is your favourite song?
Soon by My Bloody Valentine.
Which book taught you most?
Eating the Big Fish: How Challenger Brands Can Compete Against Brand, by Adam Morgan.
Do you have a team or sport that you follow?
Pompey (Portsmouth FC).
Which country would you like to work in?
I'd like to work on the West Coast at some point, there's something about being close to the sea.
Which company do you think has the best marketing?
I like Virgin. I think they have pushed the boundaries with their marketing, I like the quirkiness of their conversations they have with me. They don't take themselves seriously and that makes me smile.
What do you love most about your job?
I like overseeing the many disciplines of marketing, no two days are the same and that keeps me on my toes. I also like the freedom and autonomy of working in a start-up, and tech is exciting and fast-paced, I can make a difference here.
What is your favourite book?
The Unbearable Likeness of Being, by Milan Kundera.
What keeps you awake at night?
The man next door, his TV is too loud and he's nocturnal.