Internet
C-Suite Talk Fav Tech: Vineet Jain, Egnyte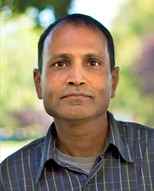 Name: Vineet Jain
Job title: CEO
Company: Egnyte
Industry: Enterprise technology
Location: Silicon Valley, California
Years' of experience: 20+ years
What is your favourite personal gadget?
I think I enjoy my son's Sphero robot more than he does! It's a great example of the internet of things making our lives more enjoyable. He likes to play with the robot, but I enjoy flexing some old coding muscles and writing C for it. (Or, more specifically, Oval code.)
Do you have a favourite piece of personal software?
I still like using Quicken. Some apps just work the right way, and Quicken is an example. It might be an old piece of software, but it's every bit as useful today as it was when I started.
What was the first piece of technology you got really excited about?
The browser! The internet is an amazing repository of human knowledge, but we need to access it to get anything out of it. The browser, a window on your screen that you can point to anywhere at all, still amazes me. I use it so much I take it for granted, but when I stop to think about it I still get a smile on my face.
What device improves your life the most at work?
The iPhone. We talk a lot at Egnyte about the form factor of what our customers use for work. Just like a construction employee's life is made easier when he can keep all his information on a tablet, my life is easier with a computer in my pocket.
What software keeps you most productive at work?
My job at Egnyte is decision-maker-in-chief. We've put together an amazing team, and it's up to me to make sure people are being deployed the right way. With WhatsApp, and texting, I can shrink turnarounds, have conversations no matter where I am, and do my job that much better.
Is there any technology that has become extinct that you would like to resurrect?
Nope! I'm not the nostalgic type. If a technology has passed out of vogue, it got outcompeted by something better. You don't survive long in the Valley without constantly looking forward.
Is there any technology you would personally recommend that you don't think enough people know about?
I prize the ability to track items and issues in a consolidated fashion across personal devices. Even more important, I like being able to cross something out on one device and have that reflect across my personal ecosystem. Devices are proliferating, so the most useful tech is anything that keeps things simple.
Do you think anything about your personal use of tech would surprise your colleagues?
Sort of. This probably doesn't qualify as tech, but I still get newspapers delivered to my door. I'm an early riser, and paging through the SF Chronicle and Wall St Journal is a great start to the day. Most days I can't actually finish them off, but I'm grateful for the way they anchor my routine.