Mobile Communications
Kathryn Cave (Kenya) Interview: Laura Walker Hudson CEO, Foundation at FrontlineSMS - The Power of Text
The Text message is the most basic form of technological communication, possible on even the oldest mobile phone. This makes it open to virtually anyone, anywhere in the world. FrontlineSMS is the Open Source software which enables users to turn any laptop into a hub for sending, receiving and managing SMS over a mobile network. It is available for the price of a standard text message and there is no need for the internet. This easy form of communication opens up all kinds of avenues for social change, such as helping Tanzanian coffee farmers improve their harvest through better data management.
Like most simple ideas this one hit founder Ken Banks quite by accident, while he was having a beer in front of the football in 2005. In the interim, the organisation has grown exponentially, and last June FrontlineSMS 2 launched across three continents: US, Europe and Africa. Yesterday, I spoke to Laura Walker Hudson, CEO of the Social Impact Lab Foundation, The Makers of FrontlineSMS. She joined the company in 2010, and has been based in Nairobi for the last 15 months (although she still spends a lot of time in Washington and London).
Africa is widely regarded to be the heart of mobile innovation, whilst Kenya is at the forefront of many tech initiatives. Hudson explains that they were initially based out of the iHub, which provided "a fantastic co-working space... packed with small businesses all creating away. Most of the members of this space are Kenyan with a healthy expat community." The move to Kenya happened because, "This is where the development team is based. [And] Kenya is our largest download country." In fact perhaps, not surprising, four out of the top ten download locations are in Africa, including: Uganda, Tanzania and Nigeria. Outside of Africa, India and Pakistan feature high on the list, although the map of users on the site also shows large concentrations in Latin America as well as Europe and North America.
This communication portal has a huge variety of purposes. It is benefiting Ugandan farmers looking for market prices. It is helping to improve the sexual health of Nicaraguans (50% of which are under 18 and too embarrassed to talk about sex). And most interesting of all, it is being integrated with M-Pesa in Kenya. This is the flagship mobile payment system which was estimated to transact an incredible 31% of Kenya's GDP last year.
M-Pesa has been described by the Economist as a solution that means, "By clicking a few keys on a mobile phone, money can be zapped from one part of Kenya to another in seconds." Yet as Hudson explained, M-Pesa has an interface that is not in SMS. "TouchlineSMS allows users to maintain the account in one place" via SMS. This is currently in Beta stage and "they are looking to build on in the next year, [which means] user numbers are small." At present this is mostly of use to schools, but there is also a "growing take up by business".
As an Open Source solution, FrontlineSMS is free to download by anyone, however not-for-profit organisations also receive free support, whilst commercial businesses don't. None the less, as Hudson explained "People need SMS to manage business. I don't see why businesses wouldn't it pick up. [The company has already seen] 13 - 17% year-on-year uptake in businesses using services between 2010 and 2011." The next year's figures will be released shortly, so it will be interesting to see how the situation has increased in the intervening period.
The global potential for a service which allows mass communication via SMS seems incredible, and I was very interested to know whether this service is used differently in different parts of the world. Hudson was not sure of the answer to this, although she did say that Cambridge will be releasing a paper about it over the next few months. She stated that this is by no means just used in emerging regions. This was confirmed by the map on the website (see below), which shows how some downloaders are using the software. These range from "communicating community events for church groups in the Faroe Islands" to "sending and receiving fish prices via SMS in Indonesia," to "collecting public health data in the US".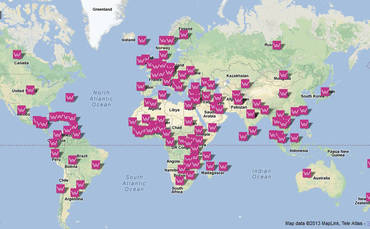 Laura Walker Hudson is keen to stress the diverse range of use this technology has for promoting social change, especially in Africa. The power of text can facilitate all types of communication and whilst "Frontline SMS has never monitored an election or run a healthcare clinic... our users have." The next step is more development, "We're working on a cloud based version. This began at the start of the year and is the whole purpose behind the revamp to version 2."
There seem to be so many uses for this, both through overt measures to promote social progress and for businesses to facilitate better user experiences. This is especially true across Africa and Kenya specifically. The second president Kenyatta is due to be sworn in on 9th April... and the "Election being peaceful has been a big boost to people's pride." Who knows how this will develop, but perhaps old fashioned text really can help drive progress...
By Kathryn Cave Editor at IDG Connect