Mobile Applications
Spain's Tappx builds a free ad network for mobile app devs
Based in Barcelona, Spain, Tappx is a pioneer in cross-promotion of mobile apps via advertising - a variation on the theme of 'you scratch my back and I'll scratch yours' – or as Tappx puts it, 'you scratch my app and I'll scratch yours'. In other words, carry an ad for other apps and your app will be promoted on other apps. The company recently announced free app promotion on the FirefoxOS platform. I spoke to Martín Morillo, the company's CMO, about the company's approach.
I like the idea of a community approach to mutual marketing but aren't in-app ads annoying for most of us?
Let's accept, first, that ads in any context are never the most popular feature of an app – that's just a fact. What publishers (or developers, in this case) have to learn is to choose the right moments to show them, so that they don't bother people too much. Ads are necessary to make users discover new apps and they're also necessary for millions of developers in order to make a profit out of their work. The second option is to make a paid-for app, but we all know that users would rather have free apps in general.
Why are you adding FirefoxOS? You obviously think it has a future…
Most developers coding for FirefoxOS do it on Android and iOS too. But they can't find the same services. That's why the Firefox app developers community appreciated our compatibility a lot as it demonstrates we care about all of them and all their apps. Even if it can seem a niche, those developers need support, and their FirefoxOS apps need help being discovered too.
You have a panoramic view of the phone operating systems. Who do you think will be the winners and losers and will we always be dominated by iOS and Android?
It totally depends on what we think "winners or losers" are. On total number of devices, Android might be the king today; we'll see tomorrow. Regarding FirefoxOS, it's growing really fast in emerging countries with large populations and where affordable and simpler smartphones are needed. These are territories where mobile traffic is booming and where it is hard to impact people through other digital platforms.
How do you make money?
To keep the platform "free of charge" the business model is to keep a 15% cut of the exchanged traffic, and sell it directly to advertisers or through ad networks. This is why we have deep experience monetising every type of app all around the world.
What's the story behind your company?
All the founding team have lots of experience in developing and launching different kinds of apps. We found that always the main problem was the expensive "black magic" needed to promote them. So we thought "Why not exchange app promotion with other developers?" Then we built an MVP and quickly the community started growing and growing.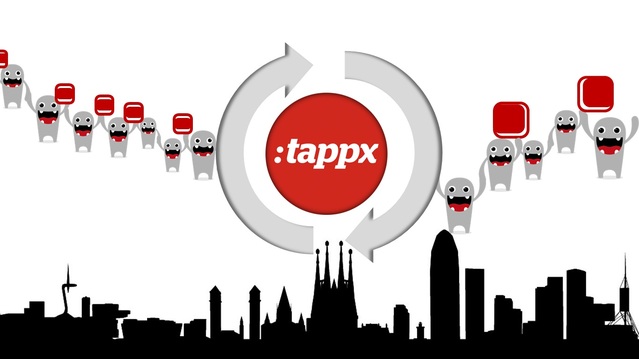 You're based in Barcelona? How is the tech economy in Barcelona, Catalonia and Spain more broadly?
Barcelona - It's a great place to be. In recent years more and more startups have been choosing Barcelona and Spain in general for different reasons. There are a lot of tech hubs, events going on every day, accelerators looking for great projects and VC firms are looking at us as a less competitive market with great opportunities.
Does Spain have good tax breaks and other useful foundations for companies like yourselves?
After years of empty promises to entrepreneurs, the government is finally lowering taxes. Personal and corporate taxes started decreasing this year and will keep going down in 2016. This helps create a better ecosystem and will increase the number of firms that can take advantage of it.
What's your ambition for the company?
After just one year we operate in over than 115 countries and we have become the largest open cross-promotion community for app developers. Our ambition is to keep helping more app developers increase their app visibility and revenues. We will do that both by improving our platform and adding new useful services that can help them gain users cheaper and faster.