Human Resources
Typical 24: Perry Correll, Xirrus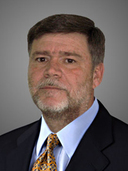 Name: Perry Correll
Job title: Prinicipal Technologist
Company: Xirrus
Location: Cocoa Beach, Florida, US
Years' experience: 25+ years
1. What time do you reach the office each day?
I work from my home office and start checking email at around 6am. Sounds early, but I think a lot of people do this these days - they just don't always talk about it. I find that getting an early start is the best way for me to support my colleagues around the world - no matter where they are. As a home-worker, I have that time and energy because there's no daily commute. But you have to be conscious of your work/life balance; it's much harder not to 'bring work home with you' when you're already there with it.
2. Is your job varied?
Very much so. Although my title is Principal Technologist, my work on a day-to-day basis crosses into the sales, marketing and engineering parts of the business. I'm also very involved in several vertical market initiatives and regularly meet with customers too. In the last four months, for example, I've travelled to Dubai, Australia, throughout Benelux, across the US and around the UK. These trips are all about meeting Xirrus' users, learning about their experiences first hand and using that knowledge to develop our products.
3. Is your job creative?
I think so, but I'm not sure everyone would agree. I guess I was born at the wrong time - if I were living through The Renaissance, it would be easier to think of my work as creative as it's very scientifically driven. I don't sit at a desk drawing, writing music or choreographing dance so my creativity isn't immediately obvious. But the creativity comes out in my work helping Xirrus evolve new Wi-Fi technology. It's very factually and methodically driven, but it wouldn't be anywhere near as successful without that initial creative spark and the capacity to imagine.
4. What do you spend the majority of your time doing?
I spend a lot of my time with customers so that I can learn about their Wi-Fi needs. This is a constantly evolving task as people's Wi-Fi needs don't stay the same for long; they want more speed, reliability and ease of use, and far less complexity. Bringing all that together is quite a challenge, as you might imagine! I also write a lot for Xirrus' blog. It's a place to share exploratory ideas, some technical detail and my experience from working in the sector all these years.
5. Do you personalise your desk?
Not particularly. Working in a home office environment is a much more personal experience than being in a more formal office - so it's not really necessary in quite the same way. That said, I have mementos of my time in the military and a few trinkets from travelling and treasure hunting.
6. Would you describe yourself as creative?
As I mentioned, there are lots of different types of creativity - and my brand of creativity is routed in science and engineering. My 'serious' creativity lets other people be creative with their Wi-Fi enabled devices in a more traditional sense.
For example, Wi-Fi enabled devices promise users a whole new world of connectivity and applications for work and leisure, but unless work is done behind the scenes by people like me, public Wi-Fi won't be able to make good on these promises and our customers will have real problems. Take video as just one example - demand for filming, streaming and watching video on mobile devices has rocketed, and with Apple basing much of the advertising for its latest smartphone around video content, this is only set to increase. But, on a practical level, how do hotels, concert venues, schools and colleges - and other public places such as stations, airports and libraries meet that demand? It doesn't 'just happen', someone has to be there in the background developing faster access points, improving wireless network connectivity and creating solutions that can cope with the continued proliferation of wi-fi enabled devices.
7. Do you have any quirky daily rituals?
I like to make my daily list using a pen and paper, rather than anything electronic. I find it gives more clarity and focus - I remember it better and don't get distracted while I'm writing it.
8. Do you tend to work on your own or with colleagues?
When I'm not travelling, I'm on my own. That's about 50% of the time. The rest of my time is typically spent meeting with colleagues or customers.
9. How many hours on average do you work a day?
Actively, probably 12. I typically start at 6am and run through until 6pm. When I'm working from my home I do have some extra flexibility to run errands during the day but generally I stick to traditional office hours with a little bit of extra time on both sides of the day.
10. Roughly how much time do you spend each day on email? Taking calls? In meetings?
I actually don't spend that much time on email, maybe an hour or so. For me, email is something I look at and either action or delete straight away. I spend more time on the phone; it's much quicker and less back-and-forth than email.
11. Do you use social media much for work?
I tend to use LinkedIn to reach out and contact the people I'd like to meet with – it's very much an introductory tool for me and the only one I use in the business space.
12. What do you enjoy most about your work?
The flexibility and the fact it isn't a 9-5 grind. I'm not doing the same tasks every day but get to work on a variety of projects.
13. What type of music (if any) do you listen to at work?
I usually have Country & Western playing in the background - anything from 50s right through to more contemporary artists. I think I have an eclectic taste in music though – I grew up in the Seventies listening to Country & Western and Kiss! But not all the music I like is good in the background while I'm working; some of it needs to be played loud when I'm relaxing and can really enjoy it.
14. What do you do for lunch?
I'll maybe just grab a quick sandwich. A formal lunch is not something I really break for. The exception to that, I guess, is if I'm meeting with customers or colleagues. But when I'm working in my home office, I tend to eat quickly and then get back to the job in hand.
15. Do you socialise with work colleagues?
Not often, but that's not because I'm not sociable! The nearest team member is usually 200-odd miles away so it takes a bit of planning. I think if I were in the main Xirrus office, things would be different and I'd definitely take lunch with colleagues and go along to any office events.
16. Are there any tasks (through your career) you've been especially glad to get rid of?
There is only one I can think of and that's not having to dress formally for the office everyday. Being able to ditch the collared shirt and tie is absolutely wonderful.
17. What is your last task of your day?
One final review of my emails.
18. How do you like to relax after work?
I like to get outside and do something physical. This mainly involves working on my yard but on the weekends I like to head out on the boat to the Florida Keys and go looking for treasure. You can find ships out there that sunk years ago in just 20 feet of water.
19. Do you keep checking email through the evening?
Yes. It's probably something I shouldn't do but I have responsibilities worldwide and I want to support my colleagues if they have technical questions. But I do know it's important to be able to relax and let your mind unwind. Working right up until you go to sleep isn't good; you need time to relax and your brain can't do that if you read your last email two mins before you try to get some rest.
20. Do you take work projects home with you?
Yes… But I think everyone is a bit guilty of that from time to time.
21. What would you say to your 20-year old self?
"Don't change anything except meet your wife sooner".
22. If you could try out any job for a day, what would you choose?
I would be a treasure hunter out on the open seas – I plan to do that in a few years.
23. What device did you use to answer these questions?
A laptop. A phone is too small.
24. Do you use your own personal device for work?
The laptop is from the company but I have my regular desktop, mobile and tablet all wirelessly connected together. You wouldn't expect anything less from a Wi-Fi guy, would you?!