Human Resources
Millennials talk careers: Alex Gnyla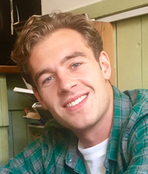 Name: Alex Gnyla
Age: 25
Education: University of Leeds - Physics
Current role: CEO and Founder of Redbrick Bills
Ideal role: Same as above…but global!
Are the stereotypes about millennials true?
I believe the media find it very easy to pigeon hole the generation as a self-obsessed group of young individuals who are confined to the bubble of social media. Although I believe that there are a great number of intra-generational differences amongst millennials, the amount of information that they are bombarded with on a constant basis is on another level compared to previous generations. It will be interesting to see how millennials progress through their lives.
What benefits most attract you to a new position?
Starting up and running a company has always been an ambition of mine. Since being at university, I found an area of the market I could exploit and couldn't wait to get started. Being my own boss and having creative control is something that is very important to me, as I want to showcase my ability to create something from nothing and to make it a success.
In the long term which of the following is most important to you? (Please explain why?)
Career development
Work/ life balance
Salary
I would definitely I have to say Career development would be the biggest motivation out of the three. At the moment the company is my main focus in my life. Developing my career is directly linked to how well the company does in my opinion. As well as this, if my career progresses consistently over the next few years, the salary increase and a good work life balance are something that will follow on as a result.
What do you think most companies are getting wrong when hiring/ retaining younger workers?
The two most important things to remember for young employees in my opinion is to offer them regular feedback and constantly challenge their ability. I feel as though some of the large companies may ignore the importance of feedback for younger employees. It is key to know how they feel they are progressing in their role and what areas they are struggling with and want to work more on. If an employee does not feel as though their voice is being heard it can reduce motivation. Also, companies need to look more into setting regular goals for younger employees to feel like they have something to work towards, reducing the feeling of plateauing.
Looking back, is there anything you'd change about the route you took to your current career?
I do not think there would be, everything that has happened has lead me to this current path and I am excited to see what the future holds. I do not believe in dwelling on things in the past. Everything I have done has enabled me to develop in one way or another that has led me to a point where I can manage my own business.