Human Resources
C-suite talk fav tech: Jurgi Camblong, Sophia Genetics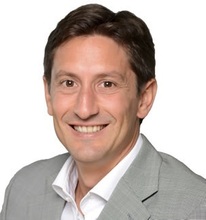 Name: Jurgi Camblong
Job title: CEO & Co-Founder
Company: Sophia Genetics
Industry: Healthcare
Location: Saint Sulpice, Switzerland
Years' of experience: 10+
What is your favourite personal gadget?
I like to separate my work life from my personal life, and believe that it's important to do so – even when it comes to gadgets. In this sense, I would say my favourite gadget is a ball. Any ball sports that requires handling skills and dexterity have been an interest since childhood.
Do you have a favourite piece of personal software?
Messaging apps, such as WhatsApp, allow me to easily communicate with my family and friends from across the world. One of my main uses for WhatsApp is to organise the teams for Sunday tennis through group chats.
What was the first piece of technology you got really excited about?
Amstrad computers – discovering the virtual sport and car games was particularly exciting at the time – and was a new and innovative way to use a computer, previously used mainly for business purposes. I remember spending a lot of time on an original Olympics game.
Another piece of tech that got me really excited -- and a French invention as well -- was the Minitel. It was a kind of 'internet' before the internet was even launched; I used it to find out the scores of my friends' teams in our league.
What device improves your life most at work?
My smartphone – whether it's to take phone calls, organise meetings and agendas, or to check my social media profiles. It's pretty much a second office, available anywhere and at any time.
What software keeps you most productive at work?
Apple Mail – the interface is user-friendly, and allows you to communicate rapidly with collaborators and key stake-holders. It is one of my main work tools and integrates seamlessly with my smartphone. However, it will never replace direct communication, face to face.
Is there any technology that has become extinct that you would like to resurrect?
Aside from the Monoski and Kick-Off (a very old and basic football arcade game), I do miss the humble VHS. Nowadays, we all have the capabilities to turn on our laptop or smartphone and stream almost anything from a video streaming platform, such as Netflix. This is, of course, fantastic, but I can't help but miss the almost ritualistic feel of going to the local video rental store, carefully selecting a movie, and enjoying it with friends or family.
Is there any technology you would personally recommend that you don't think enough people know about? (Hardware or software, work or personal)
The use of digital technologies in healthcare. By pooling data, we can better understand why specific symptoms appear in a person, and understand their origin. Using DNA sequencing to diagnose and better treat patients greatly improves their odds of survival and recovery, especially in cancer cases and rare diseases. Healthcare is still too reluctant to accept these lifesaving technologies.
Do you think anything about your personal use of tech would surprise your colleagues?
I work in a digital world with digital technologies, yet being able to leave this at work and stay free of too many digital aspects in my private life is very important for me, and something that I've learnt to appreciate.