Human Resources
Typical 24: Gary Newe, F5 Networks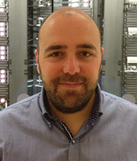 Name: Gary Newe
Job title: Director of Systems Engineering
Company: F5 Networks
Location: London, UK
Years' experience: 17
1. What time do you reach the office each day?
F5 is a highly agile and flexible company so I find that I can work from anywhere. But typically my work day starts around 8am when I get into the office or start my first meeting.
2. Is your job varied?
My job is extremely varied. My time is spent visiting customers across the UK, Ireland and Africa, and working from our office in London. The fact that each day is different and presents new challenges makes it very enjoyable.
3. Is your job creative?
I think so, but others may disagree. In my opinion, it is creative in the sense that we have to build creative solutions for our customers' problems and work on new strategies to make sure we are relevant in this ever-changing security market.
4. What do you spend the majority of your time doing?
It really varies. My time is split between internal meetings and calls, customer visits, blogging and press enquiries.
5. Do you personalise your desk?
If you can find my desk underneath all the books and paper on it, there might be some personal items there!
6. Would you describe yourself as creative?
Yes I do. There is always a new challenge that requires a creative solution to fix. But I think you have to be creative in the industry we are in. You won't go far if you're standing still.
7. Do you have any quirky daily rituals?
Get to the train station and always stand at the same place on the platform, because it is quicker to get to the exit at the other end!
8. Do you tend to work on your own or with colleagues?
Most of my work is with colleagues – we are a very close team and there is a great atmosphere in our office.
9. How many hours on average do you work a day?
On average about 10 hours a day, but when I travel it usually ends up being more.
10. Roughly how much time do you spend each day on email? Taking calls? In meetings?
I spend a lot of time on email and in meetings, which are usually interspersed with lots of calls too. Each day is different though, often depending on where I am based that day.
11. Do you use social media much for work?
Yes, I use LinkedIn and Twitter a lot. I also blog for our Newsroom, considering the implications for businesses of interesting topics in the news.
12. What do you enjoy most about your work?
I really enjoy working with all the great people at F5, and the daily variety of the job.
13. What type of music (if any) do you listen to at work?
When I need to get some real work done I usually turn on some dance music, maybe someone like Gareth Emery. Makes the time fly by.
14. What do you do for lunch?
If I am in the office I usually get something from a nearby shop and take it back to my desk.
15. Do you socialise with work colleagues?
Absolutely, we regularly get together after work or usually after a team meeting.
16. Are there any tasks (through your career) you've been especially glad to get rid of?
Not that I can think of, but there are some things that I miss, such as playing with expensive networking kit.
17. What is your last task of your day?
One last check of email and then I check my diary for the next day to make sure I have all my prep done.
18. How do you like to relax after work?
I enjoy spending time with my family and playing sport. I try to run regularly and have been known to partake in the odd triathlon.
19. Do you keep checking email through the evening?
I often try to leave my phone in another room, but I'm prone to checking for anything urgent during the evening.
20. Do you take work projects home with you?
All the time, I don't think it is possible not to. I find that I am always thinking of work, even when I am at home. I really enjoy what I do, so that's probably why!
21. What would you say to your 20-year old self?
People treat you as you allow them to, so be confident in your own abilities.
22. If you could try out any job for a day, what would you choose?
I think I would like to be a trader and work on Wall Street for a day. Who knows – maybe I might get lucky!
23. What device did you use to answer these questions?
My trusty MacBook Pro.
24. Do you use your own personal device for work?
Yes, my iPad, and sometimes my home PC.