Human Resources
Typical 24: Stuart Sutton, Infinity SDC
IDG Connect is looking to speak to IT, business and marketing professionals across the spectrum to discover more about their very different, typical working days…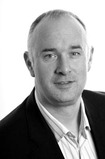 Name: Stuart Sutton
Job title: CEO
Company: Infinity SDC
Location: London, UK
Years' experience: 29 years in telecoms and IT
1. What time do you reach the office each day?
If I'm in London, I'm usually at my desk by about 7.30am. I like the peace and quiet of the first half an hour or so to organise myself and get ready for the day.
2. Is your job varied?
As the CEO, I am responsible for everything so yes, it's about as varied as it gets, which is what I enjoy the most about the job.
3. Is your job creative?
My job is all about creating value, so yes you could say it's creative. I have a technology background and although I've been trained to be disciplined, logical and practical when planning and solving problems, I always make sure I have creative people around me. I enjoy and encourage them to challenge me and to take me out of my comfort zone to ensure we stay one step ahead.
4. What do you spend the majority of your time doing?
I spend the majority of my time listening to employees, customers, suppliers, investors, competitors and analysts. This is how my ideas come about and helps us to fully understand how we can help our customer to meet their goals.
5. Do you personalise your desk?
I often have the latest piece of art from my six year old daughter. At the moment it is a drawing of a boat made out of a banana.
6. Would you describe yourself as creative?
See my answer to question 3.
7. Do you have any quirky daily rituals?
I am quite focused on making sure everything is actioned and tidy before I leave for the day. The downside is it can make going home time somewhat unpredictable.
8. Do you tend to work on your own or with colleagues?
With colleagues as I am energised by people.
9. How many hours on average do you work a day?
On average I work 11 hours a day and this often stretches into calls and emails at home.
10. Roughly how much time do you spend each day on email? Taking calls? In meetings?
Probably about 20 per cent of my time is spent on email, 20 per cent on phone calls and 50 per cent in meetings.
11. Do you use social media much for work?
I often use LinkedIn as a research tool. I also use Twitter to follow who is saying what and to make our own business announcements.
12. What do you enjoy most about your work?
I enjoy watching people get a kick out of making a difference to our customers and to the business.
13. What type of music (if any) do you listen to at work?
I don't listen to music at work. I'm afraid I would want to burst into song.
14. What do you do for lunch?
I usually have sushi, sometimes with a colleague and sometimes to get 20 minutes of quiet time.
15. Do you socialise with work colleagues?
We regularly socialise as a team to celebrate wins and build team spirt.
16. Are there any tasks (through your career) you've been especially glad to get rid of?
Proofreading legal documents, I just don't have the patience.
17. What is your last task of your day?
Checking my inbox has been dealt with and organised.
18. How do you like to relax after work?
Spending time with my family.
19. Do you keep checking email through the evening?
I've learned the hard way not be a constant slave to email. When I arrive home after my commute, I check emails, have some quality family time, followed by a quick check of emails before bed.
20. Do you take work projects home with you?
I only take work projects home with me if I need to work in a quiet environment.
21. What would you say to your 20-year old self?
Focus on being great at the things that come naturally to you, and get good at hiring great people for everything else.
22. If you could try out any job for a day, what would you choose?
A police officer. My respect for the variety of situations they need to be able to deal with at a moment's notice is incredible.
23. What device did you use to answer these questions?
My laptop.
24. Do you use your own personal device for work?
I have a work laptop, an iPad and an iPhone, one of which is always with me at all times.