Wireless Technologies
C-Suite Talk Fav Tech: George Schlossnagle, SparkPost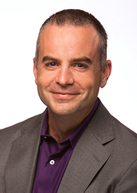 Name: George Schlossnagle
Job title: CTO and Founder
Company: SparkPost
Industry: Email services
Location: Columbia, MD
Years' of experience: 20
What is your favorite personal gadget?
My current favorite piece of technology is probably my Delorme Inreach SE. It's changed my ability to visit some of the backcountry places I love and still maintain contact with my family and team.
Do you have a favorite piece of personal software?
Caltopo.com, which is a service that allows you to build digital and physical maps for navigation from a broad array of data sources. It's a fantastic example of what a mashup can be.
What was the first piece of technology you got really excited about?
My first real computer was an Apple //e. It changed my life and set me on the path I'm on today.
What device improves your life most at work?
I'm not super device-heavy at work. My extended pocket dump right now consists of a laptop, iPhone, keys, headphones and a backup charger.
What software keeps you most productive at work?
Slack is a huge productivity tool for me. We have a highly distributed business, so not only does Slack provide a great way to coordinate with people across various geos and time zones, but it's search allows me to use it as a knowledge base so I can feel free to forget about certain things.
Is there any technology that has become extinct that you would like to resurrect?
Not so much of an extinct technology, but the general decline in device battery lifetimes as features expand is super annoying to me. My first cellphone would last a week with reasonable use - I'm lucky to get a day out of my iPhone. My old-school multifunction watch can last forever without a battery change, but a smartwatch lasts less than 100 hours. It reduces the situations in which these devices can be used and I think it's a great example of sacrificing the quality of 'core' features for new shiny bits.
Is there any technology you would personally recommend that you don't think enough people know about? (hardware or software, work or personal)
The great thing about the modern era is that no matter what you like, there are a thousand people out there that liked it before it was cool, so I'm not sure I can recommend anything that people don't know about. That said, if you do a lot of CLI work (and I do) and you don't use tmux, you should drop what you're doing and go check it out now.
Do you think anything about your personal use of tech would surprise your colleagues?
I try to be really transparent, so I'm not sure that I would surprise any of my colleagues (or at least that I'd be disappointed if they were). My affection for consumer electronics and toys has diminished over time. I don't own an Apple Watch. Don't really want one. I like practical technology that helps me do the things I like to do.