Security
Typical 24: Rashmi Knowles, Chief Security Architect EMEA, RSA
IDG Connect is looking to speak to IT, business and marketing professionals across the spectrum to discover more about their very different, typical working days…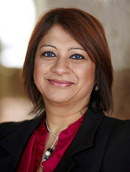 Name: Rashmi Knowles
Job title: Chief Security Architect EMEA
Company: RSA, The Security Division of EMC
Location: UK
Years' experience: 25+
1. What time do you reach the office each day?
I don't really have an office as I am field-based and spend a lot of time travelling, so there are hot desks available for me to use at the RSA office in Bracknell and EMC office in Brentford. The only desk I can call my own is my desk at home. I am an early riser so will quite often check email or be working by 5.30am.
2. Is your job varied?
Security is one of the fastest moving industries to be in and every day brings a new security exploit and a new challenge. Variety comes from learning about new technologies, internal processes and solving customer challenges. As I am on the road a lot I am lucky I get to work within a variety of different cultures and countries.
3. Is your job creative?
I like to bring security to the people and try and create messaging that everyone understands. It's fun using creativity to solve the challenges I face at work. We are increasingly seeing more creative methods being used by cyber criminals so it is therefore important myself and my team are just as innovative and creative in our thinking to combat these potential threats.
4. What do you spend the majority of your time doing?
I spend a lot of time talking with customers, either face to face or on the phone. Other times I am on a plane, waiting at the airport to get on a plane, sending/reading emails or speaking at conferences and seminars. Recently I have started getting involved in a lot more editorial opportunities and blogging articles, reviewing content and researching emerging threats – it can definitely get quite varied.
5. Do you personalise your desk?
I have just moved into a purpose built office at home so am very fortunate to work in a pleasant and calm environment. I have a photo my husband and I on our wedding day and I love fuchsia pink so have accessories in pink around my desk and will quite often burn a lemongrass candle.
6. Would you describe yourself as creative?
I think professionally my role requires me to be creative and think on my feet by helping customers to resolve specific issues or provide guidance on how to move their forward. I am quite often thrown in the deep end so have to be prepared. Outside of work, I believe it's important to be creative with your hobbies; I make knitted and crocheted jewellery with wire and crystals as well as my own greeting cards.
7. Do you have any quirky daily rituals?
I guess it's not really a ritual but if I am at my home office then I have to have a shower and get dressed for work even at 5.30am. I can't work in my PJs' which I know a lot of people do!
8. Do you tend to work on your own or with colleagues?
With so much travel, it's inevitable that I do spend time working alone, but as I need to understand all RSA technology I do work with many other teams both in RSA and across EMC our parent company. The role I am in requires collaborative work so even if I am not sitting down with a colleague face to face, I will always be in touch via other means.
9. How many hours on average do you work a day?
It often varies and we have to make sure we are quite flexible with working hours – when I have customer workshops I like to be as prepared as possible, so inevitably it eats into the day. I find that because I am often on the road I tend to check email or work at odd times during the day, like in the evenings or very early mornings. When the work is so varied, it is very difficult to give an average number of working hours a day.
10. Roughly how much time do you spend each day on email? Taking calls? In meetings?
I wish my days were so regimented that I could say how much time I spend on each. Some weeks I am in meetings all day and some weeks it's all conference calls. As we are headquartered in Boston MA, most of my conference calls tend to be in the afternoon/evenings and of course email is something we can't get away from. However I think it is good to have a varied work lifestyle to avoid routine and I can't say I don't enjoy it.
11. Do you use social media much for work?
I am a big fan of social media and an avid blogger. I managed something like 60 blogs last year, as I find it a great way to get RSA stories out to a broad level of customers. I've recently started posting my blogs and videos on LinkedIn and Twitter as the impact of these sites is another brilliant way to connect with your audience.
12. What do you enjoy most about your work?
I love to talk, so really enjoy speaking at events especially where I feel I am sharing my expertise with everyone. Being able to speak to different customers and talk to them about the challenges they face can be a real eye opener and interesting to hear. It helps me understand first-hand how RSA can help, develop strategies to improve our clients' business. It's about collective working and I feel very lucky that my job enables me to do this. Being able to travel to different countries and experience different cultures is also exciting. Of course, the never ending challenge of learning something new in security every day and making sure I am keeping up with the latest trends, keeps me on my toes.
13. What type of music (if any) do you listen to at work?
I listen to all sorts of music from classical, soul, pop and R&B. If I like the sound I will listen to it although very rarely when I am working, I find it distracts me so I tend to save music for relaxing or when I am cooking. I can't cook or drive without music.
14. What do you do for lunch?
I try to stay healthy and what I have depends where I am. So I will either have a salad at home or if I'm in the office, I will grab a sandwich and eat at my desk.
15. Do you socialise with work colleagues?
As I don't work in one particular team, generally, the only time I socialise with my colleagues is when we are all together at a conference.
16. Are there any tasks (through your career) you've been especially glad to get rid of?
I used to do a lot of programming in the early days and then a systems engineer which involved setting up a lot of systems and doing product demos. I'm glad not to have to have to do any of that now and although it taught be some valuable lessons, I am extremely pleased with the role I have ended up in and the challenges and rewards it brings.
17. What is your last task of your day?
Usually before I signoff for the evening I will check my calendar for the next day and the rest of the week so I know what I have in store for the rest of the week and any tasks that I need to prioritise.
18. How do you like to relax after work?
I do group classes at the gym including boxing, step and circuits and I'm a fan of cooking. At the end of the week I have a tradition of celebrating 'Fizz Fridays' with champagne.
19. Do you keep checking email through the evening?
Sometimes – much to my husband's annoyance. However I'll only do it if I am expecting something urgent or a decision needs to be made on something. I try not to make a habit of it.
20. Do you take work projects home with you?
As I work from home occasionally, I am not sure where the work and home boundary is for me so I guess yes.
21. What would you say to your 20-year old self?
I am happy with where I am so I am not sure if I would do anything differently if I had the chance again.
22. If you could try out any job for a day, what would you choose?
I would love to spend a day on the space station. One of my Christmas presents last year was an Astronomy telescope and as we live in a small village and have no light pollution I spend a lot of time looking at the moon or different galaxies, and I try and spot the Space Station as it travels round the earth.
23. What device did you use to answer these questions?
My work laptop which is a Dell but have a MacBook Air waiting to be picked up.
24. Do you use your own personal device for work?
I have technology overload, I use a laptop, BlackBerry, my own iPad and I also have my personal Galaxy S3 – that's a lot of kit to carry around!